September, 2016 - Charity Slo-Pitch Tournament


On September 17, 2016 the Tomlinson Family Foundation will be hosting our first Charity Slo-Pitch Tournament. With a total of fourteen teams we are in for an exciting day of fun and friendly competition. With the help of over 50 corporate sponsors we have surpassed our fund-raising goal and have now raised $149,926.

July, 2016 - City of St. Thomas Chooses Leading Biosolids Solution Provider, Lystek International Inc.


On July 20, 2016, The City of St. Thomas, Ontario has formally approved plans to implement advanced, award-winning, biosolids management solutions from Lystek International, at its Water Pollution Control Plant (WPCP). This project will play an important role in converting the facility into a Water Resource Recovery Center (WRRC). Lystek Inc. is a division of Tomlinson Group and a leader in biosolids and organics management.


June, 2016 - TOMLINSON HOSTS COMMUNITY EVENT FOR NEW STATE-OF-THE-ART WASTE RECOVERY CENTRE
Tomlinson invited the community to join them, along with Mayor Jim Watson and Councillor Eli El-Chantiry, in celebrating the opening of their new Waste Recovery Centre on Saturday, June 11 from 10 a.m. - 1 p.m. at 106 Westhunt Drive in Carp.

The event featured family-friendly activities, including a bouncy castle, ecofriendly temporary tattoos, BBQ and refreshments, facility tours and Tomlinson treeling giveaways.

April, 2016 - Tomlinson Announces State-of-the-Art Construction Waste Recovery Centre
Tomlinson announces the opening of a new construction materials recycling and recovery centre that complements the range of environmental services they offer to businesses and homeowners. Located just off HWY 417 in the Carp Road business corridor, the Tomlinson Waste Recovery Centre will be a state-of-the-art facility and environmental resource for the local construction industry and homeowners tackling their own renovation or construction projects.

February, 2016 - Tomlinson Wins ORBA Green Award for Outstanding Achievement


Tomlinson has been presented with the Ontario Road Builders' Association's (ORBA) Green Award for Outstanding Achievement in Leadership and Sustainability for 2014-2015. The Award recognized Tomlinson's leadership role in advancing the use of recycled concrete in road construction. The award was presented at the 89th ORBA Convention and Annual General Meeting in early February 2016.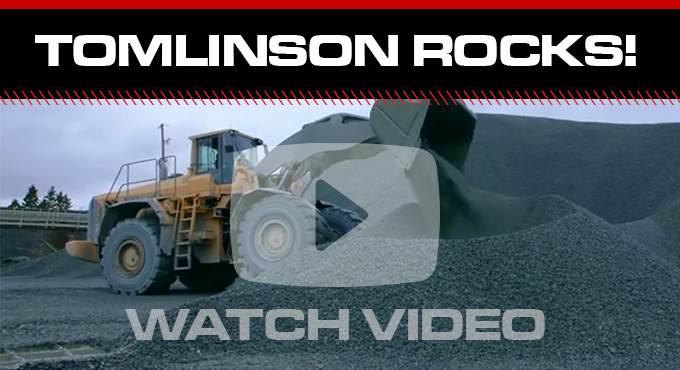 Tomlinson Rocks!

Watch our video to learn why Tomlinson is a leader in transportation infrastructure from Rock to Road, Railways, Runways and Bridges.