December, 2015 - Tomlinson Completes Rideau River Pedestrian Bridge - Adàwe Crossing - Ahead of Schedule


At an official ceremony held on Friday, December 4, 2015 to open the Adàwe Crossing, Mayor Jim Watson congratulated Tomlinson for their contribution in the construction of the new pedestrian bridge. Tomlinson was instrumental in the planning and construction of the new landmark that links Donald Street and Somerset Street East and provides pedestrians and cyclists easy access to the communities, amenities and employment located on either side of the Rideau River. Working with the City and the Rideau Tennis Club as well as engineering partner, Stantec, Tomlinson ensured Adàwe Crossing met the City's needs and was completed ahead of schedule. "Today's bridge opening, which is ahead of schedule and on budget, is a testament to the hard work of all those involved in the project, including the City of Ottawa, the Stantec team and of course, Tomlinson. It has been a very successful project overall," said Jack Lay, Project Manager, Stantec.

November, 2015 - Another Federal Registration Received for Award-Winning Biosolids Process – A First for Western Canada


In addition to the national environment award the City of North Battleford (City), Saskatchewan received from the Canadian Association of Municipal Administrators (CAMA) in June of this year, for the implementation of its Lystek biosolids and organics processing technology, the City can also now claim that it is the first community in Western Canada to receive a federal registration from the Canadian Food Inspection Agency (CFIA) for the LysteGro biofertilizer being produced at its Wastewater Resource Recovery Centre (WRRC). This is the sixth Lystek-enabled, thermal hydrolysis facility to receive this important distinction.

September, 2015 - Ontario Trap Rock will be Exhibiting at Railway Interchange 2015


Ontario Trap Rock (OTR), a division of Tomlinson Group, will be exhibiting at the upcoming Railway Interchange 2015 from October 4 – 7, 2015 at the Minneapolis Convention Center. Railway Interchange is the industry's largest tradeshow in North America where industry leaders from all railway disciplines meet to gain innovative and technical insights on a wide variety of rail topics. OTR will be exhibiting and can be found at Booth#4057.

September, 2015 - Tomlinson Red Army raises over $650,000 for cancer research over 3 years


Despite inclement weather, the Tomlinson Red Army team of cyclists raised $165,250.35 for The Ride 2015, The Ottawa Hospital Foundation's annual fundraising event for cancer research. The final cycling event, scheduled for Sunday, September 13th, had to be cancelled due to rain. However, the team of 75 Tomlinson employees and partners had already raised thousands of dollars through weekly practice rides leading up to the September event, supported by generous corporate sponsors and individual donors.

September, 2015 - Tomlinson Red Army Gear! All NEW Store!


We are excited to announce that we have launched our new official source for Red Army and Safety Gear! As part of our Core Values "Team Work" initiative, we have improved our non-profit online store. It is the perfect way to ensure you can show your Red Army pride.

August, 2015 - Tomlinson Red Army rides again to raise money for cancer research


A group of Tomlinson employees, known as The Red Army, are in the last stretch of their fundraising efforts for THE RIDE, the Ottawa Hospital Foundation's annual fundraiser for cancer research. Over 70 Tomlinson employees and customers are participating in the Red Army Ride team getting ready for the big event on Sunday, September 13th.


June, 2015 - Tomlinson Pours Concrete Deck for Rideau River Pedestrian Bridge


The City of Ottawa's new bridge to serve the Sandy Hill, Vanier, and Overbrook communities in Ottawa's east end, is getting closer to being in use! After starting construction on the Rideau River Pedestrian Bridge last fall, Tomlinson's work on the Bridge has progressed nicely, with the concrete deck poured earlier this spring. The pedestrian bridge, which includes a cycling link, will be a tremendous asset to the Sandy Hill, Vanier, and Overbrook communities in Ottawa's east end. With this project, the challenge was spanning 124 metres of water, shoreline to shoreline.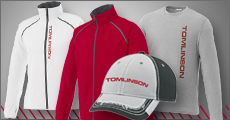 Your Source for RED ARMY GEAR

We are excited to announce the launch of our new and improved estore for your official Tomlinson Red Army Gear!
READ MORE >