August, 2015 - Tomlinson Red Army rides again to raise money for cancer research


A group of Tomlinson employees, known as The Red Army, are in the last stretch of their fundraising efforts for THE RIDE, the Ottawa Hospital Foundation's annual fundraiser for cancer research. Over 70 Tomlinson employees and customers are participating in the Red Army Ride team getting ready for the big event on Sunday, September 13th.


June, 2015 - Tomlinson Pours Concrete Deck for Rideau River Pedestrian Bridge


The City of Ottawa's new bridge to serve the Sandy Hill, Vanier, and Overbrook communities in Ottawa's east end, is getting closer to being in use! After starting construction on the Rideau River Pedestrian Bridge last fall, Tomlinson's work on the Bridge has progressed nicely, with the concrete deck poured earlier this spring. The pedestrian bridge, which includes a cycling link, will be a tremendous asset to the Sandy Hill, Vanier, and Overbrook communities in Ottawa's east end. With this project, the challenge was spanning 124 metres of water, shoreline to shoreline.






April, 2015 - Lystek Celebrates "Waste" Diversion and Resource Recovery with its Customers on Earth Day 2015


Tomlinson's biosolids and organics management division, Lystek Inc., plays a leading role in the successful diversion of organic materials from landfills by providing proven solutions that help municipalities and other generators harness "waste" as an economic resource. Widely acknowledged, "waste" diversion generates substantial economic and environmental benefits and supports the evolution towards a circular economy that realizes the benefits of resource recovery.


January, 2015 - Tomlinson involved in construction of new special Trades Centre in Ottawa


Tomlinson is proud to be involved in the construction of a new space designed to help train 300 young people a year. An initiative of the Ottawa's Youth Services Bureau and the Ontario Government, the Trades Centre located at the intersection of Walkley Rd and Hawthorne Ave. Will offer training, employment possibilities and hope to youth involved with the law.

January, 2015 - Lystek Delivers New North Battleford Biosolids Management System


The City of North Battleford, Saskatchewan is the first municipality in Western Canada to adopt and successfully implement advanced, award-winning biosolids management solutions developed by Cambridge, Ontario-based Lystek International Inc. (a division of Tomlinson Group). The project was commissioned on budget and ahead of schedule.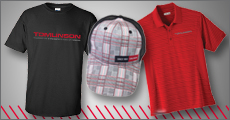 RED ARMY GEAR AT YOUR FINGERTIPS

We are excited to announce that on September 20th, we will be launching our new Red Army Gear!
READ MORE >