Landfill Diversion
Waste Recovery Centre
Recycling or recovering up to 80% of materials received, Tomlinson's state-of the art facility makes it easier for builders, businesses and homeowners to play their part in protecting the environment.
Extensive Capabilities
Opened in 2016, the Tomlinson Waste Recovery Centre (WRC) provides a single destination and environmental resource for the recycling and recovery of an extensive range of materials, from Construction & Demolition to electronics and appliances. The Centre can process up to 550 tonnes of waste per day, diverting up to 122,000 tonnes a year from landfills. It has been specially designed to process, reclaim or recycle materials like aggregates, rock and concrete, metals and wood. It also converts mixed materials into biomass or fuel sources.
Tomlinson also provides the reporting required for builders to show their commitment to green building programs such as BOMA BEST and Leadership in Energy and Environmental Design (LEED).
Construction & Demolition Facility
Our single stream C&D facility has been designed to recycle all manner of construction materials. Businesses and homeowners benefit from the ease of placing all their construction waste in one container, and the confidence of knowing the Centre sorts and reclaims all reusable materials.
Innovative and Integrated Facilities
Our dual stream sorting system is the same as the curbside service, and our equipment is designed to process mixed paper loads and mixed container loads. We specialize in commercial recycling for any size business. We also process source separated cardboard and electronics at no charge.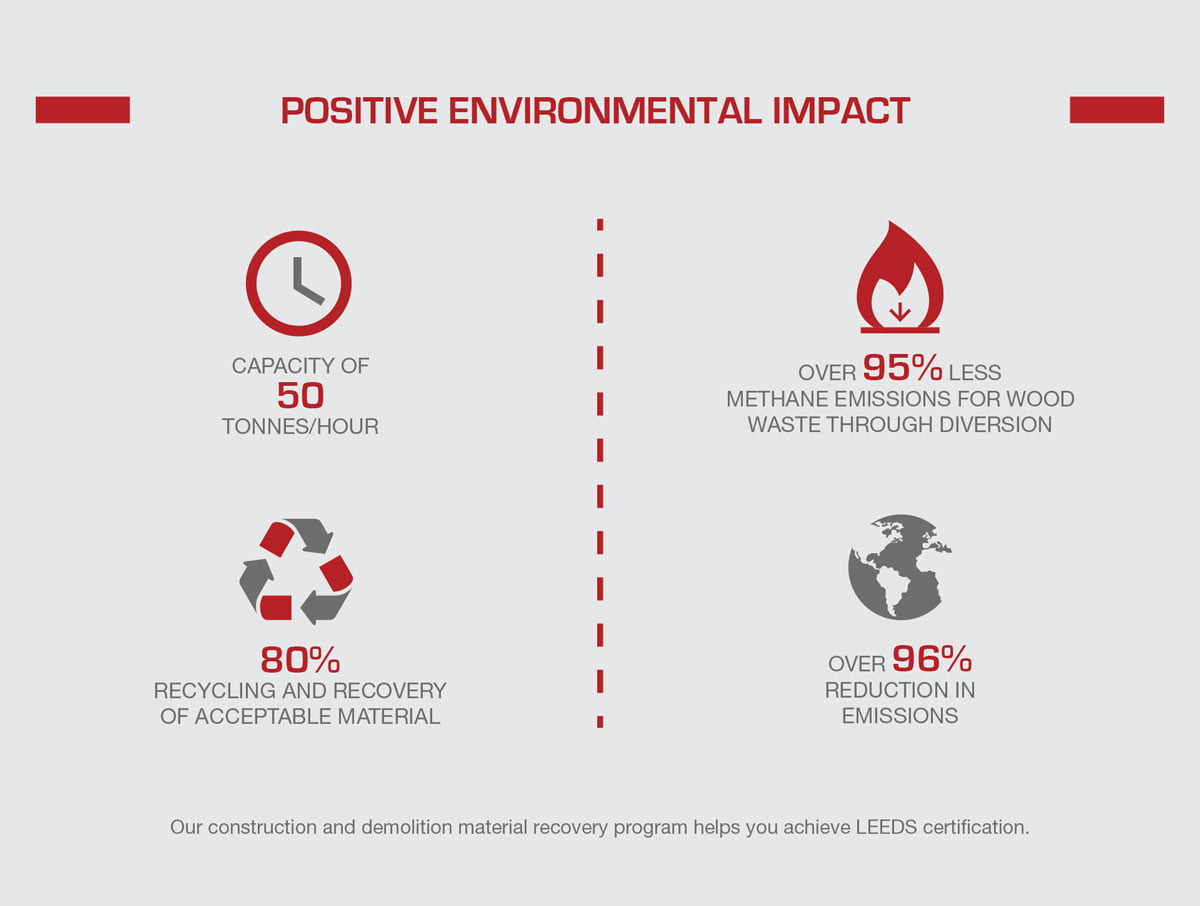 Waste Transfer Station
Any residual material which can't be recycled is transferred to a licensed landfill. Our Transfer Station can be used by the public and large commercial customers.
DID YOU KNOW WE SELL?
Rubble
Makes a great base material for roads and structures
Bedding
Clean, ground wood for livestock bedding
Biomass
3-inch ground wood
REQUEST A TOUR
We offer guided tours of the Centre for organizations that anticipate regular use, school groups, or those interested in learning more about the variety of services offered and seeing the Centre firsthand.
To request a tour, please send us an
email
.
Hours & Location
Waste Recovery Centre
106 Westhunt Dr., Carp
ON, K0A 1L0
Monday – Friday 7 am – 6 pm
Saturday 7 am – 1 pm
Material accepted at our facilities
A list of what we do and do not accept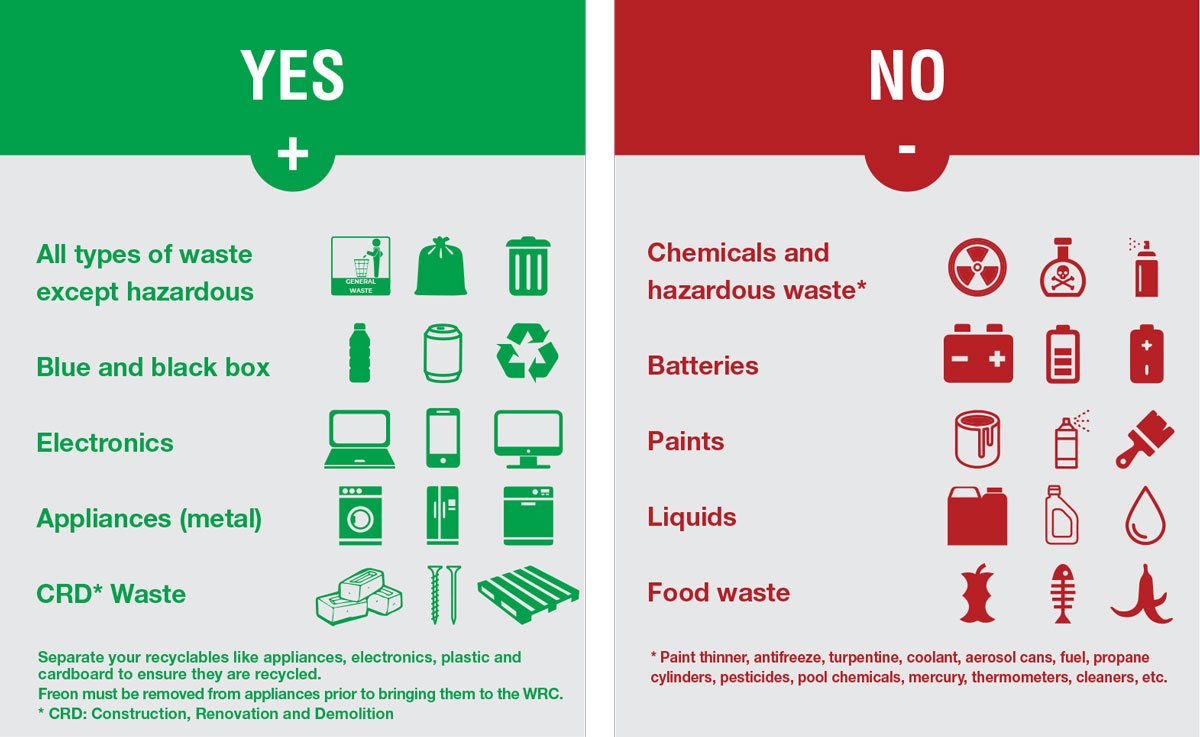 Type

Price

Additional Info

General waste (residential, commercial, non-recyclable waste)
$108/metric ton
Minimum fee applies <100 kg – flat rate $25 otherwise charged by weight
Construction, renovation & demolition waste**
$108/metric ton
Minimum fee applies <100 kg – flat rate $25 otherwise charged by weight
Asphalt singles
$88/metric ton
Minimum fee applies <100 kg – flat rate $25 otherwise charged by weight. Source separated (no garbage)
Stumps
$250/metric ton
Tires
$10 small passenger
$20 large truck tire
Mattresses
$30/mattress
Metals & appliances
Free
Source separated (no garbage, no appliances with Freon)
Approved electronics
Free
Source separated (no garbage, no packaging)
Residential recycling (blue box & black box and cardboard) ***
Free
*           1% surcharge to cover carbon applicable
**         Only construction waste, wood, drywall metal, etc..
***        Residential recycling only, does not apply to commercial
Environmental Services Brochures
Learn more about Tomlinson's full range of Solid Waste Environmental Services:
Learn more about Tomlinson's full range of Industrial Waste Environmental Services: