When you work with our team, you can be assured that you are getting the best people for the job. Our knowledgeable, professional & committed employees have an unwavering work ethic, unparalleled customer service and uncompromising approach to safety and the environment. With more than 50 years of experience, we have gained a reputation for dependability, quality and great service. By focusing on creativity and innovation, Tomlinson finds solutions where others see barriers. Some of our capabilities include: - Complete management and construction of large civil, municipal & commercial infrastructure projects - Complete site development from excavation to asphalt with LEED certified material management - Solutions for infrastructure construction and rehabilitation, storm, sanitary water servicing, sewer and watermain installation, road and bridge construction, environmental servicing, waste management, remediation and demolition, etc. For more information and a full list of capabilities and products offered, please visit our website:
http://www.tomlinsongroup.com/
R.W. Tomlinson
4 days ago
Tomlinson Rocks Full Version
What materials actually go into making a road? Tomlinson takes you step by step through each detailed process for Roads, Runways, Railways and Bridges.
14 hours ago
#TestimonialTuesday - We love hearing positive stories about Tomlinson employees helping out the community! Great job to these Tomlinson construction employees who helped direct traffic around an accident on highway 33 in Bath. #tomlinsoncares https://t.co/E3ewHgmBkW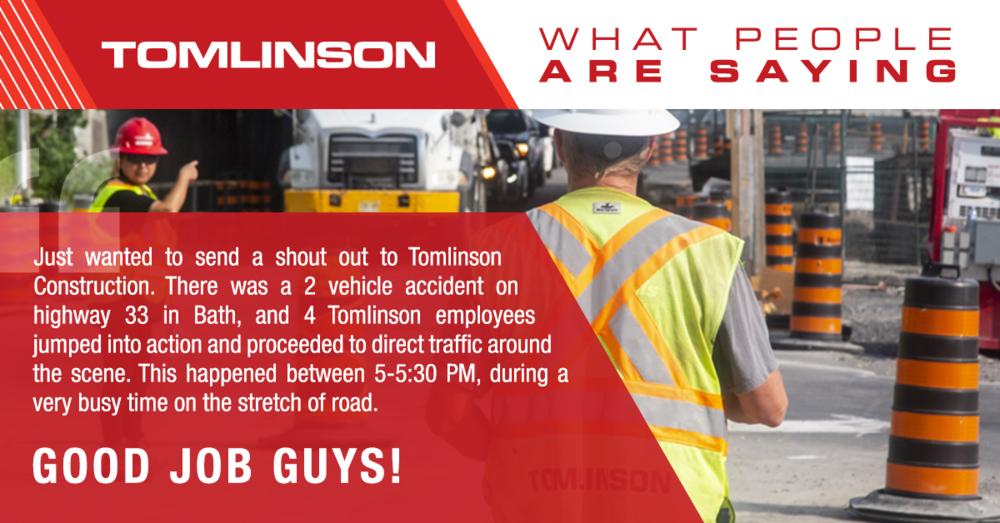 2 days ago
Do you need livestock bedding, rubble, or ground wood (biomass)? Materials can be picked up on-site at our Waste Recovery Centre in Carp, or delivery can be arranged for an additional charge. https://t.co/KVJFWudZY6 https://t.co/6F2X6yndzg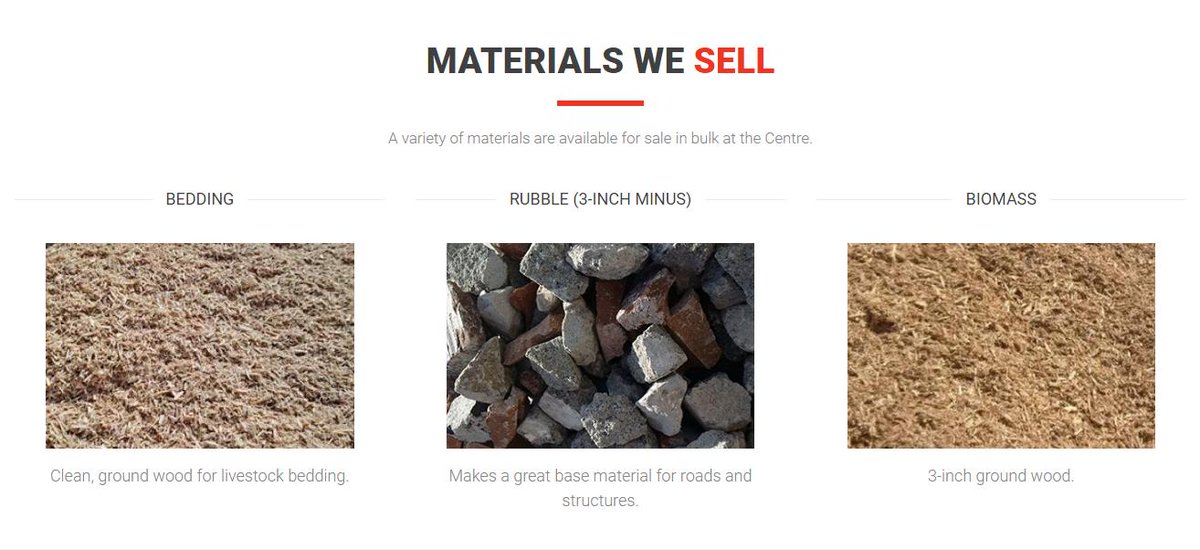 4 days ago
Our pits & quarries produce the critical foundation for roadway infrastructure, buildings & other structures. Watch how our various divisions come together in order to create high quality roads, runways, railways and bridges. https://t.co/VebZ7qpzd1 #aggregates #construction
4 days ago
Participate in the Cruise Don't Bruise Ride on August 24th to help end #domesticabuse by raising awareness as well as money in support of important community programs @EORC_Youth. Tomlinson is glad to support this event. https://t.co/PB8m4B7uI5 #CruiseDontBruise #TomlinsonCares https://t.co/Swa31Poloq

5 days ago
Did you know Tomlinson offers full service #construction services in #Kingston? In addition, the Tomlinson Kingston location owns and operates a limestone quarry in #Napanee to complement its full-service Road, Excavation & Sewer/Watermain services. https://t.co/uvY40pP6qO #ygk https://t.co/yp7lj9XFUw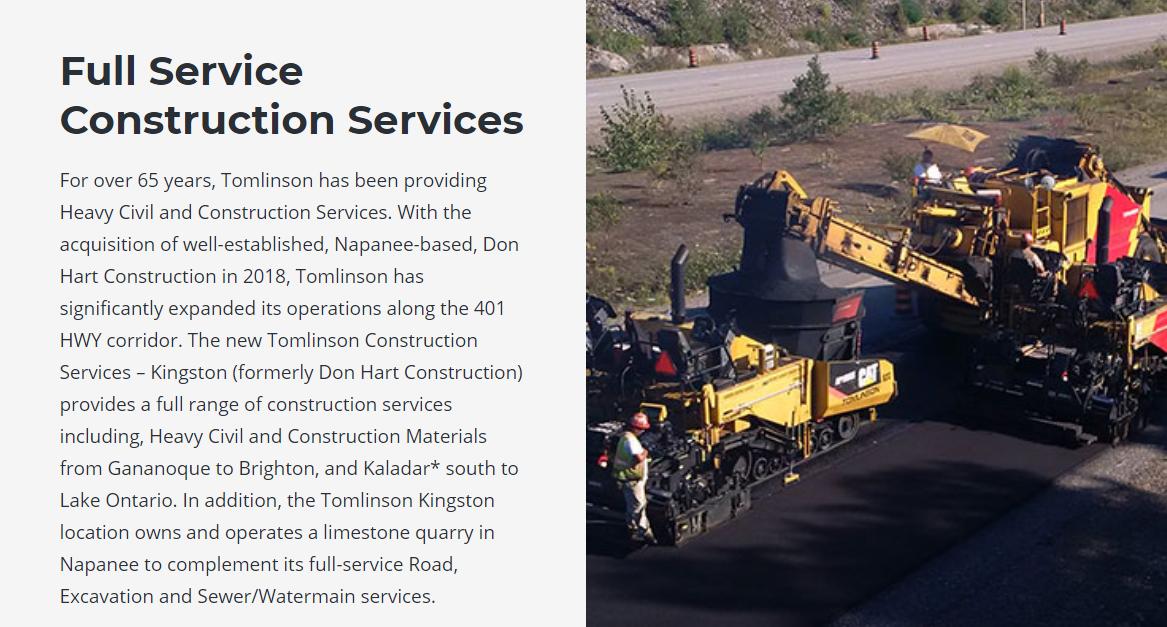 6 days ago
Learn about Tomlinson's full range of #IndustrialWaste Environmental Services: https://t.co/a5RhSVEDr2 #EasternOntario https://t.co/1qhfe3pIgb