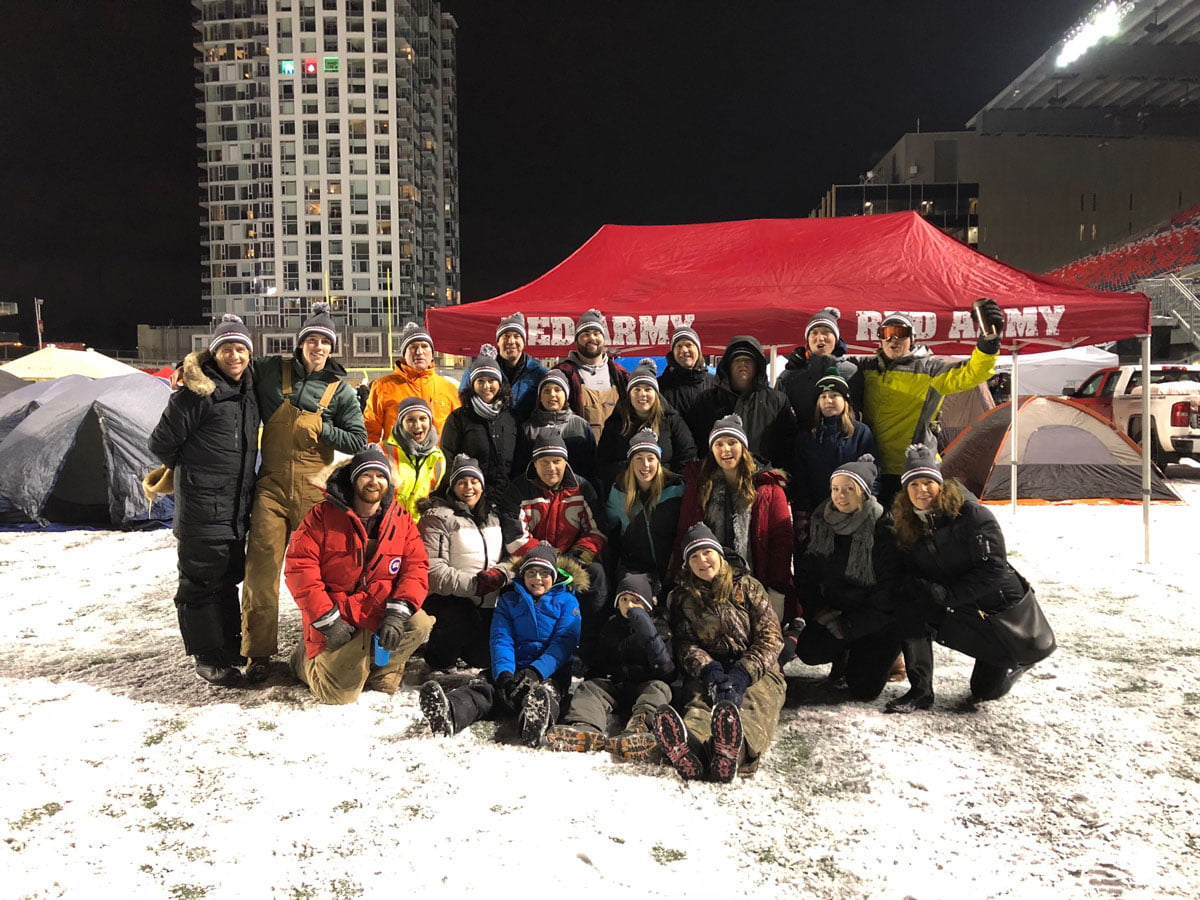 Tomlinson's Red Army Sleeps Out for Youth Homelessness
Once again, Tomlinson gathered a team of hardy volunteers to sleep out in the cold on December 6th, 2018 at the stadium field at TD Place. Thanks to their fundraising efforts, they raised $11,158.00 for Ottawa's Youth Services Bureau, making it one of the top teams. The Red Army began their fundraising with a Bake Sale in October, and the Tomlinson Family Foundation was an integral part in the team's success. On the eve of the SleepOut there were organized events like bubble soccer, crazy forts, and a photobox before everyone settled in for the night. At 5:30 am the following morning, a light breakfast was served before closing remarks.
Over the past 3 years the Red Army Sleepout Team has raised a total of 31,926.00 towards this important cause. The annual event raises critical funds to support Ottawa's 1,400 homeless youth, many of whom suffer with mental health and trauma. This year's total of more than $211,000.00 will fund life-changing programs and services including youth engagement, mental health services, community and housing services, employment services, and youth justice services. Over the past six years more than 2,000 people have spent one cold night outside and raised more than $1 million.
---
The Red Army YSB SleepOut team wants to thank everyone who came out to support our various fundraisers including: Bake Sale, 50/50, Yuk Yuk's Comedy Show and Silent Auction. These fundraising events collectively brought in $11,158 in 2018.
We would also like to thank our suppliers who donated various items to the Silent Auction which was our largest success bringing in $3,424.00. Thank you to Tallman Truck Center, JCL Wood, EMCO Waterworks, M-Con, J Burchil Excavation, Lafarge, Merkley Supply, Corix and Forterra.
A sincere thank you to The Red Army Team members who participated in the event and braved the cold for such a fantastic cause!
2018 Red Army Team
John Dwyer, Riley Smith, Paul McCarney, Lee Timmins, Joe Skrepnek, Jeff Stanley, Adam Hendrix, Stephane Belanger
Alisa Perlstein, Kerry Visutski, Briar Sullivan, John Legault, Emily Legault
Mitch Jackson, Becky Gilmer, Dany Poulin, Milissa McDowell, Phelicia Servais, Alexandra Donovan, Mary Theresa Gelineau
Cohen Gilmer, Liam Dwyer, Angela van Galder