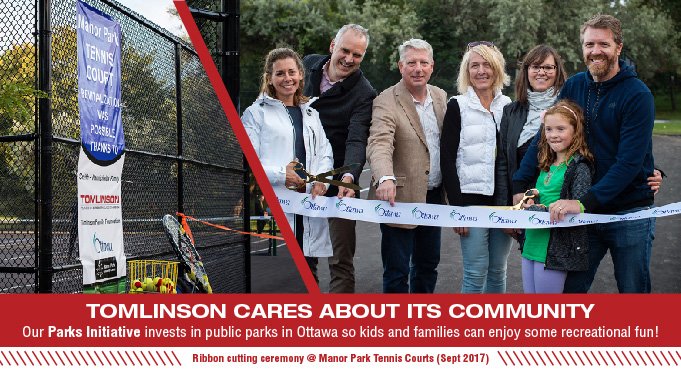 Tomlinson Upgrades Manor Park Tennis Courts: Tomlinson Parks Initiative Invests In Public Parks
Ottawa, ON – In June 2017, Tomlinson completed the refurbishment of Manor Park Tennis Courts as part of the Tomlinson Parks Initiative. Employees and residents attended a ribbon cutting ceremony on September 8th, 2017. Tomlinson invested its resources and crews in a complete overhaul of the courts, located on city property next to Manor Park school and opposite Beechwood Cemetery. The old courts were removed and new ones built using concrete and flexi surface. The upgrades enable residents to enjoy some healthy and fun recreation.
Manor Park is the third location in Ottawa to benefit from the Tomlinson Parks Initiative. The Pinecrest Tennis Courtwas completed in September 2017 and in 2016 Tomlinson built the Meadowbreeze Skating Rink in Kanata. Tomlinson has a long history of philanthropic contributions to local charities and involvement in different projects that enhance the Ottawa community. Launched in 2016, the initiative represents a commitment of $1M over five years towards park renewals and upgrades within the city. Tomlinson and the Tomlinson Family Foundation are donating infrastructure services and construction materials to improve local parks.