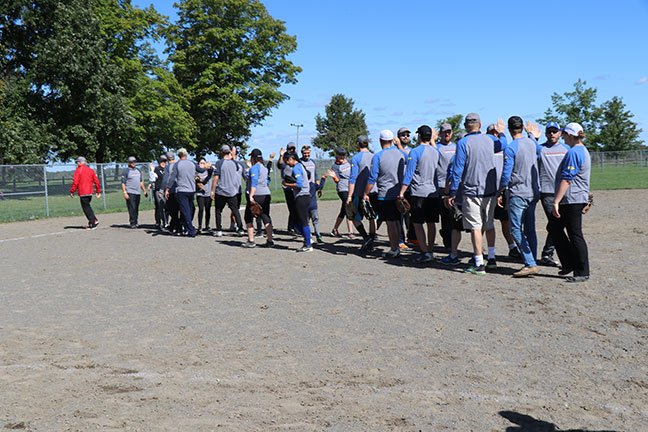 Tomlinson Slo-Pitch Tournament Raises Over $250,000 for Charity
The third annual Tomlinson Family Foundation's Slo-Pitch Tournament, held on September 22nd, 2018, was another success. With the help of 45 corporate sponsors the group raised $128,032.85. The Tomlinson family pledged to match all contributions received, bringing the combined total to $256,065.70! The money raised is being donated to The Boys and Girls Club of Ottawa (BGCO) and various other local charities.  This represents part of the Tomlinson Family Foundation commitment in 2017 to donate $1 Million to the BGCO over a five-year period. The BGCO has served the Ottawa community since 1923, reaching out to 4,500 children and youth each year through after-school, weekend and summer programs that build self-esteem and help to develop stronger social skills.
The weather after the Ottawa tornadoes didn't hold back the Red Army and friends from partaking. Volunteers and attendees braved the traffic and power outages to help make the event such a great success. With seventeen games in a round robin tournament, the Greenbelt Gongshow took first place in the competitive division and the South-end Sluggers won the recreation division. It was a fun-filled day for all ages with the sixteen teams playing games throughout the day. Attendees enjoyed a barbeque lunch and refreshments in the beer tent.
"It was a great day that brought co-workers, friends and families together to share laughs, have fun, and to see everyone's competitive side come out.  I will definitely be back next year!" said Briar Sullivan, CVOR Administrator
The day would not have been possible without the tireless efforts of Tomlinson employees Tina Felhaber, Stacy McKay, Dana Lewis, Jennifer Staples, Patti Perry, Josh Legault, Jeff Tomlinson, Matt Blake, Mike Evans, John Legault, Milissa McDowell, Toby Windsor, Taylor Provesan, Sean McGrath, Lynne Prodhonme and Chef. Patti Perry also arranged a group of student volunteers: Madi Edwards, Emily Legault, Emily Keon and Ty Robillard.
---
About Tomlinson Group of Companies
Ralph Tomlinson founded R.W. Tomlinson Cartage in 1952 with one single-axle dump truck. Now celebrating 65 years, the company is now Eastern Canada's leader in environmental and transportation infrastructure services. Providing a comprehensive range of products and services in quarrying, construction, trucking and environmental industries, Tomlinson continuously strives to deliver the highest standard of quality and value to its customers, partners and employees. Investment in its communities, people, processes, resources and equipment has earned Tomlinson a reputation for excellence, integrity, innovation and teamwork. For more information, please visit www.tomlinsongroup.com.