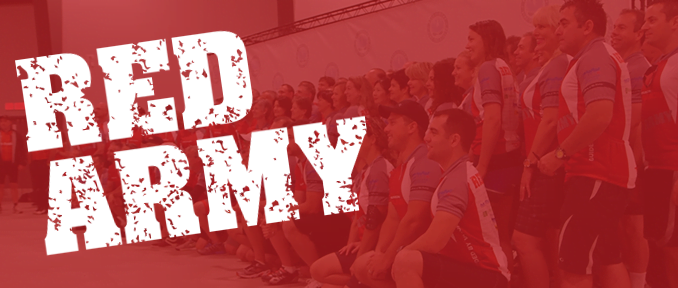 Tomlinson Red Army rides again to raise money for cancer research
A group of Tomlinson employees, known as The Red Army, are in the last stretch of their fundraising efforts for THE RIDE, the Ottawa Hospital Foundation's annual fundraiser for cancer research. Over 70 Tomlinson employees and customers are participating in the Red Army Ride team getting ready for the big event on Sunday, September 13th. The Tomlinson team has set an ambitious goal of $250,000 and thanks to sponsorship from their corporate sponsors, including RBC and Toromont, as well as individuals like Carlo Aiello from Cityscape, they are nearly halfway towards achieving it, with a current total of $108,232. In 2014 The Tomlinson Red Army team raised over $310,000 for THE RIDE.
Sponsored practice rides are happening in advance of the main cycling date. For example, on August 25th, the practice ride was sponsored by RBC, who provided food and refreshments to the cyclists after the ride. Participants can still sign up for the last sponsored ride, taking place on Wednesday Sept 9th and sponsored by Toromont.
As added incentive, Tomlinson is offering tickets for the Tomlinson box for the Ottawa Senators vs. Montreal Canadiens game on Saturday, October 3rd to reward the highest individual Tomlinson fundraiser.
Daniel Filion, a contractor who buys concrete from Tomlinson, was the winner of the Cannondale Synapse Carbon bike valued at $2,200 that Tomlinson raffled off to promote the event.
Donations can be made online by visiting https://secure.ohfoundation-fondationho.ca/registrant/search.aspx?EID=170086&Lang=en-CA.
The final cycle event consists of two routes: a 50 KM closed route looping the Sir John A. Macdonald Parkway; and a separate 108 KM open route. In the last 5 years, this event, formerly known as Ride the Rideau, has raised $8.8 million for cancer research at The Ottawa Hospital, making it the most successful cancer fundraiser in Eastern Ontario.
The Red Army riders are:
Dana L
Jeff T
Christopher F
Brian O
Pierre B
Kevin C
Bert H
Robert C
Brian H
Paul M
Joanne M
Ron T
John F
Amy T
Inez Q
Tim V
Mary Van D
Suzanne L
Dave M
Ray S
Spencer W
Jim T
Chris H
Willie L
Stan Q

Mohamed S
Bernardo R
Douglas C
Michael H
Perry L
Adam H
Darrin A
Paul W
Chris K
Amy F
Amy B
David D
Erin C
Mark M
Dennis G
Catriona P
Donald G
Kelly M
Carlo A
Courtenay F
Stuart T
Josie N
Melanie B
Jazmine L

Todd P
Wade E
Sylvie B
Julio B
Ron W
John L
Art S
Benjamin M
Amanda G
Ivan L
Marc H
Kevin O
Brendan M
Tyler F
Joe F
Sean M
Mathew T
Lyall S
Adrian M
Julie E
Allan M
Treana W
Daniel T
Kate L