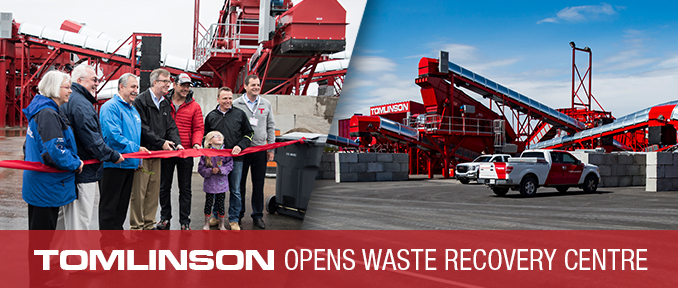 Tomlinson Hosts Community Event for New State-of-the-Art Waste Recovery Centre
Tomlinson invited the community to join them, along with Mayor Jim Watson and Councillor Eli El-Chantiry, in celebrating the opening of their new Waste Recovery Centre on Saturday, June 11 from 10 a.m. – 1 p.m. at 106 Westhunt Drive in Carp.
The event featured family-friendly activities, including a bouncy castle, ecofriendly temporary tattoos, BBQ and refreshments, facility tours and Tomlinson treeling giveaways.
"At Tomlinson, we are fueled by our core values of innovation, excellence, the drive to be environmentally conscious and our desire to give back to the community," said Lee Timmins, Manager at Tomlinson Environmental Services. "Our whole team is looking forward to introducing our one-of-a-kind facility to members of the Ottawa community."
The Centre, which officially opened on May 16, serves the local construction industry as well as individual homeowners tackling their own renovation or construction projects.
Located conveniently just off HWY 417 in the Carp Road business corridor, the Tomlinson Waste Recovery Centre is open Mondays to Fridays from 7 a.m.- 5 p.m. and Saturdays from 7 a.m.-1 p.m. For more information, please visit www.wasterecoverycentre.com.