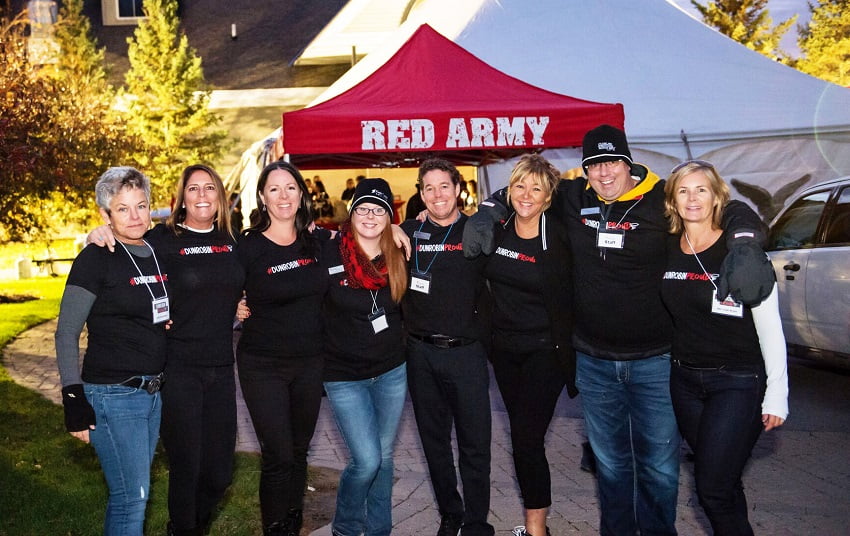 Tomlinson helps raise $45,000 at #DunrobinProud golf fundraiser
Ottawa, ON – Tomlinson was delighted to support the #DunrobinProud golf fundraiser on October 18, 2018. Held at Eagle Creek Golf Club, the event was the collaborative result of a group of Dunrobin residents, neighbours, business people and friends who came together to raise money for the Dunrobin Community Association, who are distributing the funds to provide ongoing and long term support as the community recovers from the September 21 tornadoes. The initiative has raised at least $45,000 so far.

A strong believer in giving back to the community where they live and work, as soon as Tomlinson became aware of the initiative, they decided to donate:
Comfort stations
Garbage bins
Tents
A BBQ trailer
Participants attended an 18-hole golf tournament, followed by a BBQ, bar tent, a band and silent auction open to non-golfing family members and children. Close to 400 people came through the doors.
"Eagle Creek is a big part of the Dunrobin community and many of our members and staff were affected by the tornado," explains Ryan Little, Director of Operations, Eagle Creek Golf Club. "Our goal with this fundraiser was to eliminate costs for the event so we could give as much as possible back to the community. I was delighted when Tomlinson said they wanted to be involved. They are one of the best companies locally at supporting golf events in the city and their contributions played a huge part in making this event successful. We couldn't have done this without our partners in the city supporting us, including staff from the golf club and food vendors."
Visit http://dunrobinproud.ca to donate to this important cause.
About Tomlinson Group of Companies
Ralph Tomlinson founded R.W. Tomlinson Cartage in 1952 with one single-axle dump truck. Now celebrating 65 years, the company is now Eastern Canada's leader in environmental and transportation infrastructure services. Providing a comprehensive range of products and services in quarrying, construction, trucking and environmental industries, Tomlinson continuously strives to deliver the highest standard of quality and value to its customers, partners and employees. Investment in its communities, people, processes, resources and equipment has earned Tomlinson a reputation for excellence, integrity, innovation and teamwork. For more information, please visit www.tomlinsongroup.com.
Editorial Inquiries:
Stephanie Tessier
Vice President, Business Development
+1 (613) 822-1867
stessier@tomlinsongroup.com