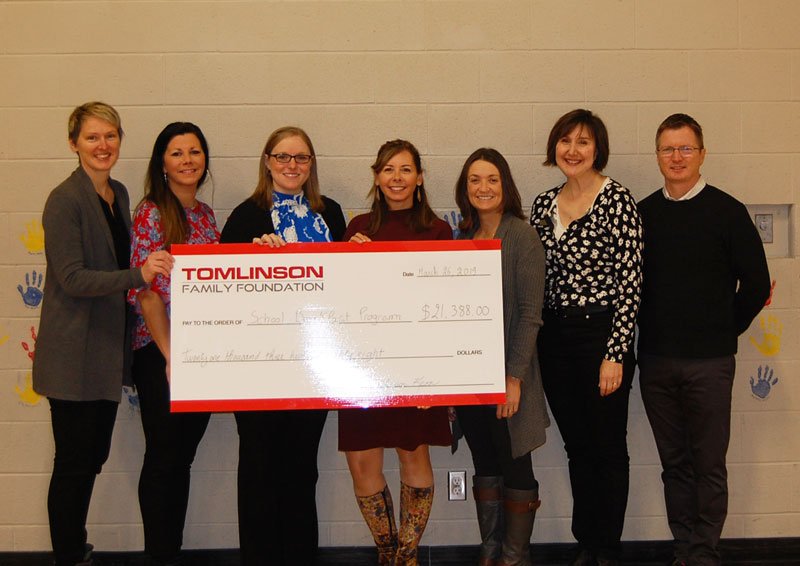 Tomlinson donates over $21,000 to School Breakfast Program
On March 26, 2019 Cindy Tomlinson officially remitted a cheque for $21,388 to help provide nutritional breakfasts and snacks for the Ottawa School Breakfast Program. The event took place at the Berrigan Elementary School in Barrhaven. Tomlinson raised $10,694 from the Toonie Bar program on December 1, 2018 during the employee Christmas party and the funds were generously matched by the Tomlinson Family Foundation. The Ottawa School Breakfast Program ensures that children in need have access to a healthy breakfast in a safe, supervised environment, to help each child start their day ready to learn. Thanks to the program, more than 13,500 Ottawa children in 189 schools begin each school day with a nutritious meal.
During the event, Cindy Tomlinson presented the cheque to Jennifer Lisowski, Vice-Principal of Berrigan Elementary School. Also present were: Ryan Keon; Tanya Miller Johnston and Elaine Thibodeau, program Co-coordinators; Stephanie Nelson, Lead coordinator for the area; Carolyn Hunter, Lead for the program; and Ashley Richer from the Ottawa network for Education.
The Tomlinson Family Foundation aims to contribute towards and support local communities, and foster charitable works that build and strengthen these communities. Under the leadership of Cindy Tomlinson the Foundation leverages the company's tradition of charitable giving by encouraging participation from employees, suppliers, service providers and other organizations and individuals with whom they work. The goal of the Foundation is to support a wide range of organizations in an effort to serve the needs of the community. Since 2012 The Toonie Bar program, matched by the Tomlinson Family Foundation, has raised thousands of dollars benefitting local non-profit organizations, including: DFID; the YMCA; the School Breakfast Program; Hospice Care Ottawa; and Roger Neilson House.
---
About Tomlinson Group of Companies
Ralph Tomlinson founded R.W. Tomlinson Cartage in 1952 with one single-axle dump truck. Now celebrating 65 years, the company is now Eastern Canada's leader in environmental and transportation infrastructure services. Providing a comprehensive range of products and services in quarrying, construction, trucking and environmental industries, Tomlinson continuously strives to deliver the highest standard of quality and value to its customers, partners and employees. Investment in its communities, people, processes, resources and equipment has earned Tomlinson a reputation for excellence, integrity, innovation and teamwork. For more information, please visit www.tomlinsongroup.com.