Landfill Diversion
Waste Recovery Centre
Today's environmentally conscious customers demand an integrated and sustainable approach to handling their waste management needs.
Sustainable Waste Disposal Options
Open in 2016, the Tomlinson Waste Recovery Centre (WRC) combines a state-of-the-art construction and demolition recycling facility, a traditional blue and black box processing facility, an electronics and appliances recycling depot and a waste transfer station for any material that can't be recovered.  The result is a single destination and environmental resource for the local construction industry, businesses and home owners.
The Tomlinson Construction and Demolition (C&D) Material Recycling Facility at Springhill and the WRC support recycling and recovery efforts for all manner of construction materials including, source separation of cardboard and plastic, reclaiming construction materials like aggregates, rock and concrete, which can be crushed and reused, recycling of metals and wood, and the conversion of mixed materials into biomass or fuel sources.
The WRC can process more than 50 tonnes of construction debris and remnant material per hour, up to 500 tonnes each day. The goal is to recover or recycle a minimum of 80% of the construction materials delivered for processing. All customers benefit from the ease of placing all their construction waste in one container and the confidence that the Centre will sort and reclaim materials, diverting up to 110,000 tonnes a year of waste from landfills.
Commitment to Green Building Programs
We provide the reporting required for builders to show their commitment to green building programs such as, BOMA BEST and Leadership in Energy and Environmental Design (LEED).
Innovative and Integrated Facilities
Tomlinson Environmental Services has put the infrastructure and processes in place to meet and exceed our industrial, commercial, and institutional customers' expectations for waste collection, recycling and processing.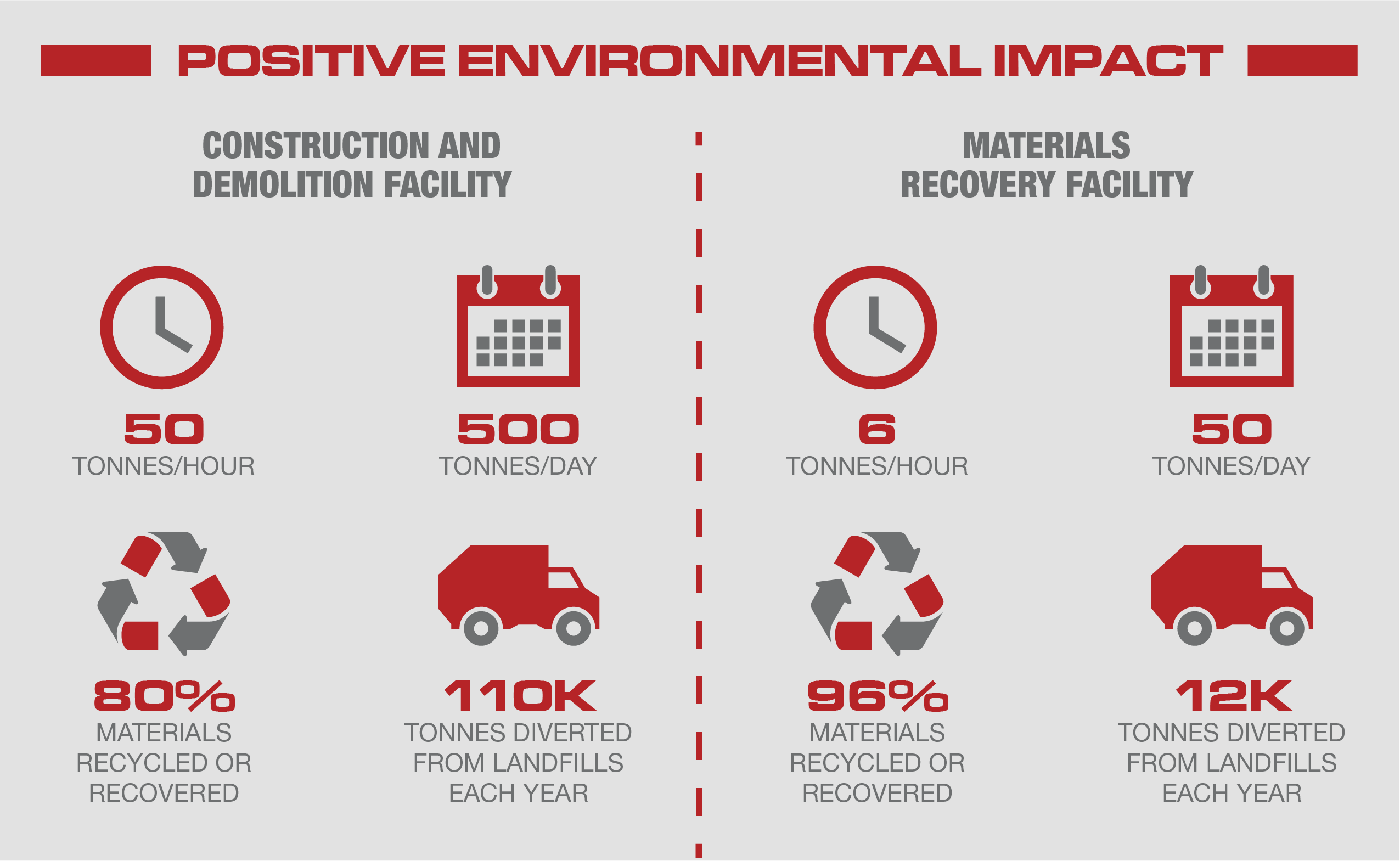 LEARN MORE
To learn more about the types of materials accepted at this state-of-the-art facility, visit the Waste Recovery Centre website.
Environmental Services Brochures
Learn more about Tomlinson's full range of Solid Waste Environmental Services:
Learn more about Tomlinson's full range of Industrial Waste Environmental Services: