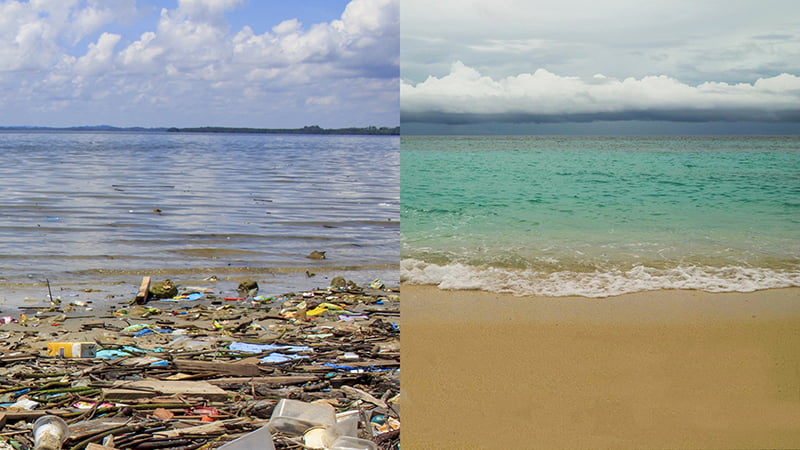 World Environment Day 2018: "If you can't reuse it, refuse it"
Did you know that a plastic bag was recently found in one of the world's most remote locations, at the bottom of the deepest part of the Pacific Ocean in Mariana's Trench? If that doesn't sound the alarm about the threat of plastic pollution, what will?

In April 2018, Earth Day called attention to the devastating impact of plastic pollution, and now World Environment Day 2018 is continuing the conversation. On June 5th, World Environment Day will center around the theme "Beat Plastic Pollution," with the goal of starting a global movement to increase awareness of the problems with plastics and the ways in which we can all work together to address them.
Roughly half of the plastic we discard has only been used once, much of it ends up in landfills where it can take as long as 1000 years to decompose, and it pollutes our oceans and ground water in ways that threaten our health and the health of other living things. That's why World Environment Day is promoting the ethos "if you can't reuse it, refuse it." Avoiding single-use plastics in favor of sustainable alternatives is key to addressing plastic pollution. From shopping with reusable cloth bags to switching from plastic to metal water bottles, we can all be part of the solution.
Of course, plastic pollution is just one of many urgent issues impacting the health of our environment. Every year since 1974, the United Nations has marked World Environment Day by calling on each of us to do something, no matter how small or seemingly inconsequential, to help care for the planet we all share.
At Lystek, a leader in biosolids and organics management and a division of Tomlinson Group, we're working hard to do our part to build a sustainable future. We have multiple examples of our efforts – check out the award-winning Lystek OMRC-FSSD in Fairfield, California, which is one of the toughest jurisdictions on the planet in terms of environmental regulations. Here, the patented LysteMize® system converts biosolids into biogas for green energy and LysteGro®, a high-performing, organically-based, alternative biofertilizer product in high demand.
Located in the City of Fairfield-Suisun, in Solano County, this world-class facility is ideally situated to serve the City of San Francisco and the entire Bay area with capacity to divert 150,000 tons of biosolids and other organic material annually from landfills, in favour of using the patented, low temperature, Lystek THP® technology to produce a variety of safe, alternative products as part of the rapidly-expanding, circular economy.
The OMRC-FSSD is just one example of many ways that Lystek is helping today's leading communities achieve success – both ecologically and financially. However, building a more sustainable future requires all of us to increase our awareness and take real action against the challenges of sustainability.
If you're not sure where to begin on World Environment Day 2018, why not start by increasing your awareness of this year's theme and learning as much as you can about plastic pollution. For example, did you know that supposedly "green" biodegradable plastics, such as disposable cutlery and other plastic items marked "biodegradable" or "compostable" also play a role in polluting our environment? Despite their reputation as a better alternative to non-biodegradable plastics, they are made from the same materials and typically contain even more chemicals that are harmful to the environment.
There's a whole lot more you can learn about the problem with plastics, but of course education needs to go hand-in-hand with action. Why not get involved by visiting the interactive map on the World Environment Day website and finding an event happening in your part of the globe? And remember: if you can't reuse it, refuse it – not only on June 5th, but every day of the year.
Happy World Environment Day from Tomlinson Group!