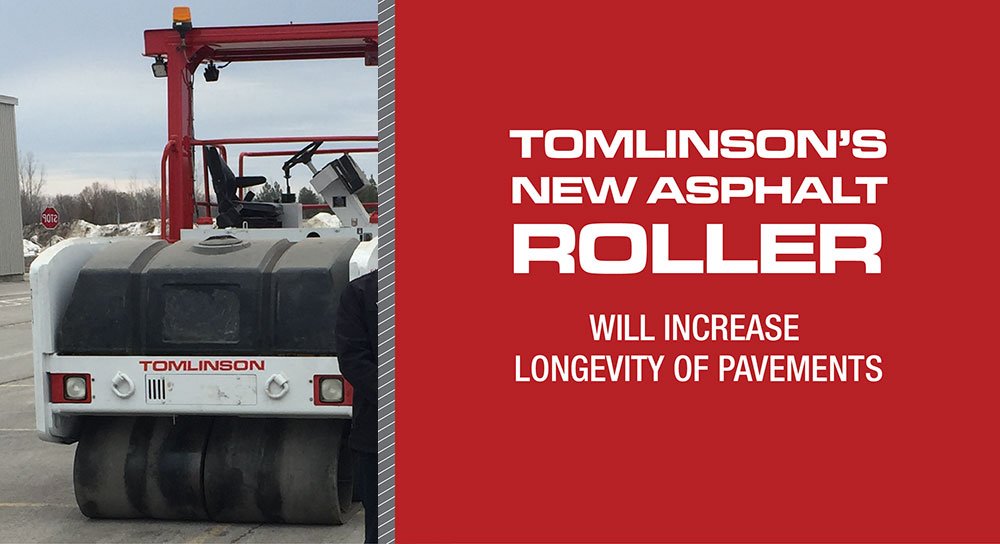 Tomlinson's new asphalt roller will increase longevity of pavements
Ottawa, ON – Tomlinson has launched and successfully tested a new asphalt roller, consisting of Tomlinson TRAK technology. The belt rollers improve water impermeability, resulting in crack-free asphalt and fewer potholes. The design was pioneered by Abd El Halim, a civil engineering professor at Carleton University, also known as the "Professor of Pavement". Tomlinson invested in a $500,000 project to develop the first prototype. The team, in consultation with El Halim, retrofitted a traditional asphalt roller with Tomlinson TRAK belt rollers instead of twin steel drums, similar to a snowmobile design. The belt spreads the weight of the compacting machine over a larger area, preventing cracks in the freshly laid asphalt. In November 2017 Tomlinson used the machine to resurface a lane of Didsbury Road. The belt-rolled pavement outperformed the cylinder-rolled surface in a head-to-head test of water permeability.
The Ministry of Transportation discovered that a pavement which lasted just one year longer would save the province approximately $50 million annually. It is now developing water permeability standards that will be specified in new road contracts in the future, meaning contractors will need to lay crack-free asphalt. Tomlinson is engineering a second roller, which it plans to use on a 42-kilometre paving project on a highway in the Bancroft, ON, area later this year. This modified roller will also use Tomlinson TRAK rather than traditional steel cylinders.
—
About Tomlinson Group of Companies
Ralph Tomlinson founded R.W. Tomlinson Cartage in 1952 with one single-axle dump truck. Now celebrating 65 years, the company is now Eastern Canada's leader in environmental and transportation infrastructure services. Providing a comprehensive range of products and services in quarrying, construction, trucking and environmental industries, Tomlinson continuously strives to deliver the highest standard of quality and value to its customers, partners and employees. Investment in its communities, people, processes, resources and equipment has earned Tomlinson a reputation for excellence, integrity, innovation and teamwork. For more information, please visit www.tomlinsongroup.com.
Editorial Inquiries:
Stephanie Tessier
Vice President, Business Development

R.W. Tomlinson Limited
Phone: (613) 690-3008
E-Mail:
stessier@tomlinsongroup.com