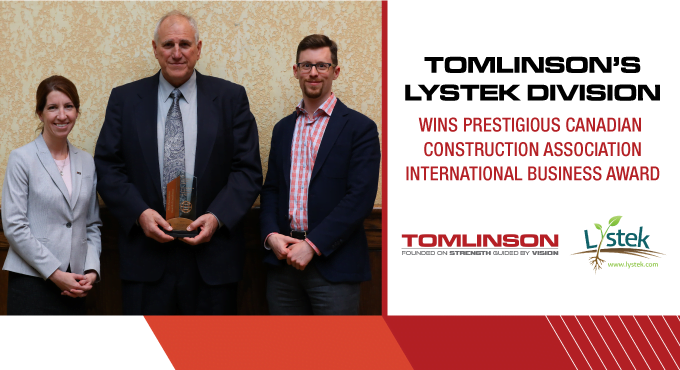 Tomlinson's Lystek Division Wins Prestigious Canadian Construction Association International Business Award
Ottawa, ON – Once again, Lystek International, a division of Tomlinson Group, has been recognized for its visionary leadership in technology, innovation and business success. On March 14th in Banff, Alberta, Lystek was presented with the International Business Award from the Canadian Construction Association. The CCA awards recognize the important contributions of individuals, organizations and projects that promote and enhance the Canadian construction industry, whether through innovation, projects, or dedication to the industry.
—
About Tomlinson Group of Companies
Ralph Tomlinson founded R.W. Tomlinson Cartage in 1952 with one single-axle dump truck. Now celebrating 65 years, the company is now Eastern Canada's leader in environmental and transportation infrastructure services. Providing a comprehensive range of products and services in quarrying, construction, trucking and environmental industries, Tomlinson continuously strives to deliver the highest standard of quality and value to its customers, partners and employees. Investment in its communities, people, processes, resources and equipment has earned Tomlinson a reputation for excellence, integrity, innovation and teamwork. For more information, please visit www.tomlinsongroup.com.
About Lystek International
Lystek International Inc. is a leading provider of Thermal Hydrolysis solutions for the sustainable management of biosolids and organics. The multi-use, award-winning Lystek system reduces costs, volumes and GHG's by converting municipal and industrial wastewater treatment facilities into resource recovery centers. This is achieved by transforming organic waste streams into value-added products and services, such as the patented LysteMize® process for optimizing digester performance, reducing volumes and increasing biogas production; LysteGro®, a high-value, nutrient-rich biofertilizer and LysteCarb®, an alternative source of carbon for BNR systems. For more information, please visit www.lystek.com.
For more information, please contact Kevin Litwiller, Director of Marketing & Communications
Cell: 519.584.5437 | Office: 226.444.0186 x 106 | kevinl@lystek.com