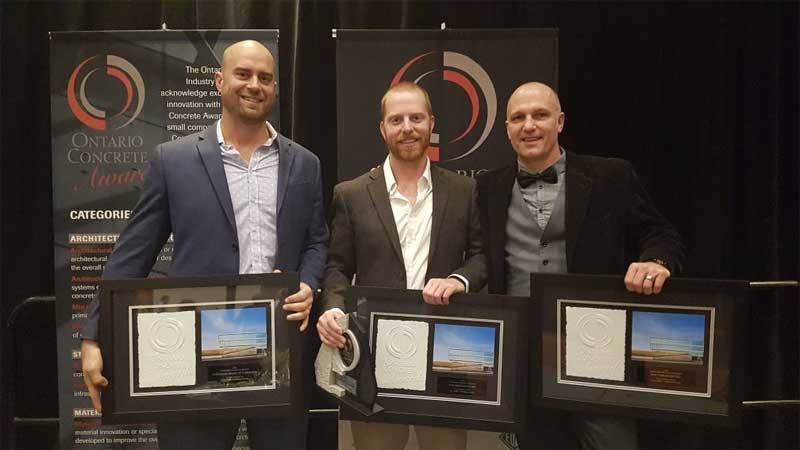 Tomlinson wins Sustainable Concrete Construction Award for The CORE
Tomlinson received the Sustainable Concrete Construction Award for The CORE, its new centre of operations in Ottawa. The leading-edge project was honoured with the presentation of a plaque at the Ontario Concrete Awards Banquet at Construct Canada in Toronto, on Thursday, November 29, 2018. The building, completed June 1, 2018, was created with a focus on sustainable design, integrating natural and built landscapes into its planning, while using innovative techniques and materials to lower greenhouse emissions and reduce energy costs. Concrete was the material of choice for its structural strength, durability, sustainability and aesthetic appeal.
Tomlinson selected concrete for its low albedo and heat retention to reduce the building's energy costs. The facility's 7000 m3 concrete included 27% of Post Industrial Recycled Content. A concrete roof slab was chosen for its longevity and ability to reduce the spread of water and fire damage to the building. Exposed concrete walls and ceiling decreased the amount of new material used throughout the building.
Tomlinson adhered to sustainable concrete construction techniques throughout the build. Several specialty concrete mixes were used to lower the amount of cement in the concrete mixtures without reducing performance and workability. These specialty mixes allowed work to continue through the winter while reducing the amount of greenhouse emissions with the use of supplementary cementing materials. For example, slag and silica fume minimized the amount of GU cement, while superplasticizers reduced the amount of water in concrete mixes, ultimately lowering the total cement required for the concrete and lowering the amount of carbon dioxide created during production. Smart Concrete™ technology produced accurate temperature and maturity readings to obtain the strength of the concrete in real-time and minimize heating costs during winter.
As well as choosing concrete for its sustainability, the company installed floor-to-ceiling windows on each floor to provide sustainable lighting. Daylighting design was incorporated into the architectural design to increase the natural light throughout and regulate indoor temperatures. The CORE was designed as a LEED Silver targeted building, with expected certification in 2019. With a foot plate of 19,202 sq. ft. and a facility area of 84,703 sq. ft., The CORE allows Tomlinson to deliver its full suite of services from a centralized location, fostering innovation between business units and enhancing operational efficiency.
---
About Tomlinson Group of Companies
Ralph Tomlinson founded R.W. Tomlinson Cartage in 1952 with one single-axle dump truck. Now celebrating 65 years, the company is now Eastern Canada's leader in environmental and transportation infrastructure services. Providing a comprehensive range of products and services in quarrying, construction, trucking and environmental industries, Tomlinson continuously strives to deliver the highest standard of quality and value to its customers, partners and employees. Investment in its communities, people, processes, resources and equipment has earned Tomlinson a reputation for excellence, integrity, innovation and teamwork. For more information, please visit www.tomlinsongroup.com.
Vice President, Business Development