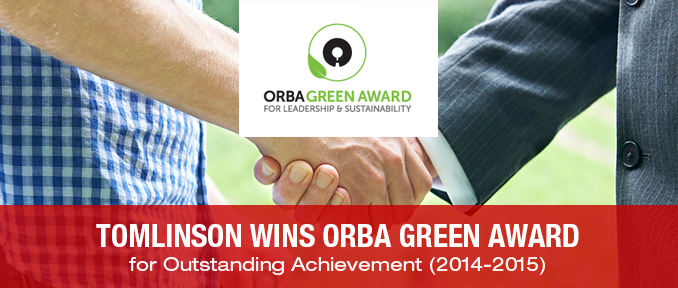 Tomlinson Wins ORBA Green Award for Outstanding Achievement
Ottawa, ON – Tomlinson has been presented with the Ontario Road Builders' Association's (ORBA) Green Award for Outstanding Achievement in Leadership and Sustainability for 2014-2015. The Award recognized Tomlinson's leadership role in advancing the use of recycled concrete in road construction. The award was presented at the 89th ORBA Convention and Annual General Meeting in early February 2016.
"At this year's ORBA inaugural Awards Breakfast, we were proud to honour our member companies for their hard work and continued efforts that have a positive impact on our industry," says Geoff Wilkinson, ORBA Executive Director. "It was exciting to honour our award winners at our Convention in front of so many peers and public owners. Congratulations to all of our award winners."
"We are delighted to have been recognized for our commitment to use recycled materials in road building in Ontario," says Kevin Cinq-Mars, President, Tomlinson. "We hold a high respect for our environment and for the sustainable use of our natural resources. One of Tomlinson's core values is to be Environmentally Conscious and we strive to ensure our products and services support sustainable practices."
Tomlinson is proud to be an innovative leader in the supply of construction materials and delivery of construction services to Eastern Ontario. Over the past 10 years, the company has worked diligently to produce recycled materials that meet and/or exceed the Province of Ontario and the City of Ottawa's specifications. By doing so, Tomlinson have been able to divert annually approximately 100,000 tonnes of concrete, 40,000 tonnes of asphalt and 3,000 tonnes of glass from local landfills.