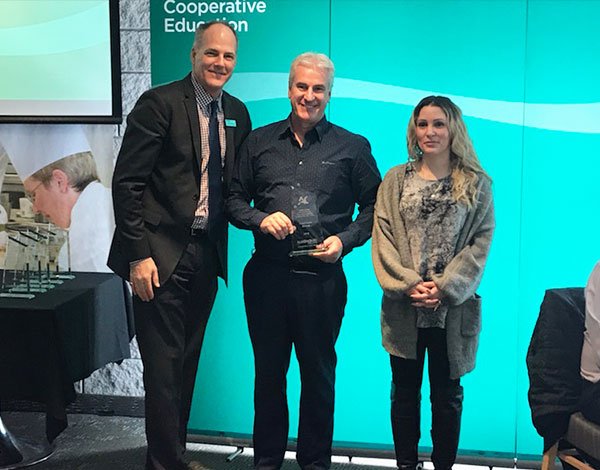 Tomlinson wins Algonquin Co-op Employer of the Year Award
Pictured: Kent MacCaskill (centre) Project Manager with Tomlinson, and Jenni Bouchard (right) Co-op Student
Tomlinson Group received a 2019 Employer of the Year Award from the Cooperative Education Department of Algonquin College. Collected on a nomination basis, the Co-op Awards of Excellence are a recognition of the contributions from the College's Co-op partners and the real impacts they have on the education and lifelong success of students. The 2019 awards were presented during a luncheon on March 21, 2019 at Algonquin's Restaurant International with over 80 AC employees, students, RBC guests, and community members.
Jenni Bouchard, Tomlinson's Cooperative Education student explained, "I felt immediately welcome and Tomlinson was well prepared for the intake of interns even though they were in the midst of a relocation. They provided me with a laptop, cell and appropriate safety training right away. They were also very accommodating and sensitive to their individual student's needs (placing myself at a job site that was close to my house to save me time and gas money was hugely appreciated). I would definitely recommend Tomlinson as a Co-Op employer! The experience was great for me to have a better understanding of the construction field in a real-world opportunity. It also strengthened my professional network which is key to securing employment in the future."
"I am a true believer in co-op. I know first-hand how important these learning experiences are for our students, and how useful co-op work-terms can be for our employers," said AC President and CEO Cheryl Jensen. "I have always said co-op is like a four-month job interview where both the student and the employer get to know each other in a way that goes way beyond what can be learned in an hour-long job interview and can often result in a longer-term hire after graduation."
---
About Tomlinson Group of Companies
Ralph Tomlinson founded R.W. Tomlinson Cartage in 1952 with one single-axle dump truck. Now celebrating 65 years, the company is now Eastern Canada's leader in environmental and transportation infrastructure services. Providing a comprehensive range of products and services in quarrying, construction, trucking and environmental industries, Tomlinson continuously strives to deliver the highest standard of quality and value to its customers, partners and employees. Investment in its communities, people, processes, resources and equipment has earned Tomlinson a reputation for excellence, integrity, innovation and teamwork. For more information, please visit www.tomlinsongroup.com.