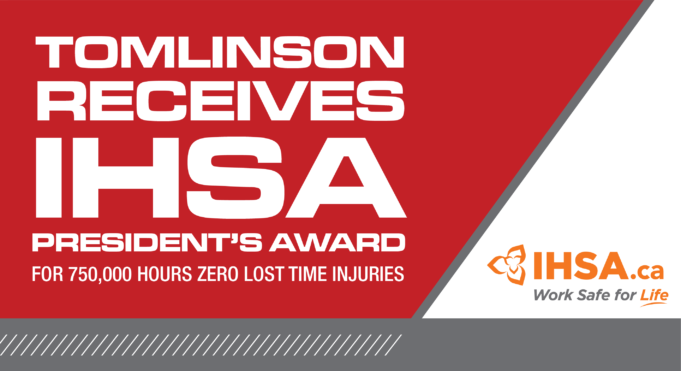 TOMLINSON RECEIVES IHSA PRESIDENT'S AWARD FOR 750,000 HOURS ZERO LOST TIME INJURIES
Ottawa, ON – Tomlinson has earned the IHSA's (Infrastructure Health and Safety Association) President's Award for accumulating and surpassing the required total of 750,000 employee hours worked from August 9, 2016 – March 31, 2017 with zero lost time injuries. This is Tomlinson's seventh President's Awards from IHSA. It recognizes R. W. Tomlinson's commitment to safety, a large division which includes aggregate/ trucking/ asphalt plants/ garage/ City and Highway Civil operating units. "May I take this opportunity to offer my personal congratulations to you and your entire staff for continuing to perform injury free," said Enzo Garritano, President and CEO, Infrastructure Health and Safety Association.
As Chris Keeping, Director of Health and Safety, explains, "We are delighted to have received our seventh President's Award from IHSA. At Tomlinson, safety has always been and always will be a Core Value. We continually invest in the right training, resources and assessments, and every member of the Safety Team strives to ensure that all our workers go home the same way they came to work, each and every day."
The IHSA President's Award is given to any firm for 250,000 hours worked without a lost-time injury. IHSA offers skills-based training, auditing, and evaluation to companies in construction, surface mining, utilities and transportation. It is recognized by the Ministry of Labour, the Ministry of Transportation, the Ministry of Training, Colleges and Universities, and the Workplace Safety and Insurance Board as designated trainers and consultants.
—
About Tomlinson Group of Companies
Ralph Tomlinson founded R.W. Tomlinson Cartage in 1952 with one single-axle dump truck. Now celebrating 65 years, the company is now Eastern Canada's leader in environmental and transportation infrastructure services. Providing a comprehensive range of products and services in quarrying, construction, trucking and environmental industries, Tomlinson continuously strives to deliver the highest standard of quality and value to its customers, partners and employees. Investment in its communities, people, processes, resources and equipment has earned Tomlinson a reputation for excellence, integrity, innovation and teamwork. For more information, please visit www.tomlinsongroup.com.