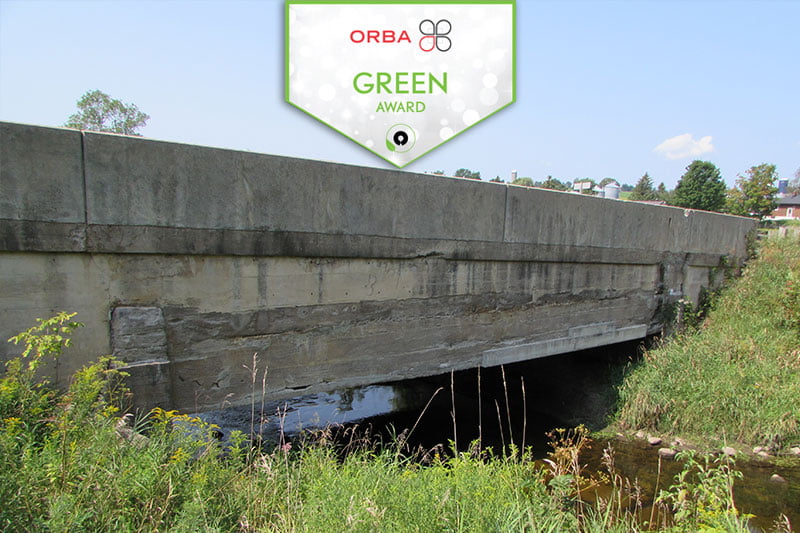 Tomlinson receives 2018 Green Leadership and Sustainability Award from ORBA
Tomlinson was awarded the Green Leadership and Sustainability Award from the Ontario Road Builders' Association (ORBA) on Tuesday, February 5, 2019 during an awards breakfast at The Westin Harbour Castle Hotel, Toronto. This was one of two awards presented to Tomlinson by ORBA. This award celebrates the company's achievement in ensuring little to no adverse environmental impacts during its work to replace the Rawdon Creek bridge located in Stirling, Ontario. Despite major construction in an environmentally sensitive area, Tomlinson's Erosion and Settlement Control Measures (ESC) resulted in no erosion, washout, or sediment release throughout the contract
The ORBA Community Leadership Award recognizes a member company's achievement in environmental leadership and sustainable best practices. "On behalf of our Association, I want to extend congratulations to Tomlinson on receiving the 2018 ORBA Green Leadership and Sustainability Award," said Bryan Hocking, Chief Operating Officer of the Ontario Road Builders' Association. "Through their focus on worker training, and a 'best outcomes' criteria for selecting erosion and sedimentation controls and work means and methods, Tomlinson demonstrated its commitment to environmental stewardship and leadership.  The holistic approach Tomlinson employed to mitigate and eliminate these risks from construction operations at the Rawdon Creek Bridge project stands as a best practices example in environmental impact risk management."
The Rawdon Creek Bridge Replacement, begun October 2017, included the removal and disposal of the entire superstructure on Highway 62, County of Hasting, Ontario. There were several potential environmental impacts of the project including: disturbance or destruction of fisheries habitat; impact on fish activity due to suspended sediment; flooding; water chemistry and habitat alterations; degradation of water quality. The area is also home to various Species-At-Risk: the SAR Turtles, Bobolink/Eastern Meadowlark, and the Barn Swallow.
In order to protect the area, Tomlinson implemented the adaptive management approach. Upon thoughtful consideration and site analyzation, the company developed a series of erosion and sediment control plans for each phase of construction, which they adapted to reflect changing site conditions as the work progressed. Two key site personnel were on-site at all times during construction to monitor erosion and sediment control, adjust the measures to address observed issues for effectiveness, provide training, and conduct on-site weekly meetings. The team considered primary factors determining the potential for erosion including: rainfall and runoff; topography; soil texture; soil cover. Embankments around the bridge were reinforced to prevent the release of sediment into the creek. The team also implemented innovative and long-term mitigation measures for the highly erodible soils, comprised mostly of silt and sand.
"Tomlinson is delighted to receive this award," said Stephanie Tessier, VP Business Development. "ORBA recognized that our adaptive management approach which, has proven to be incredibly successful, was highly beneficial to this type of project. Being environmentally conscious is one of our CORE values and Tomlinson strives to maintain leading-edge environmental practices and adherence to sustainability."
---
About Tomlinson Group of Companies
Ralph Tomlinson founded R.W. Tomlinson Cartage in 1952 with one single-axle dump truck. Now celebrating 65 years, the company is now Eastern Canada's leader in environmental and transportation infrastructure services. Providing a comprehensive range of products and services in quarrying, construction, trucking and environmental industries, Tomlinson continuously strives to deliver the highest standard of quality and value to its customers, partners and employees. Investment in its communities, people, processes, resources and equipment has earned Tomlinson a reputation for excellence, integrity, innovation and teamwork. For more information, please visit www.tomlinsongroup.com.