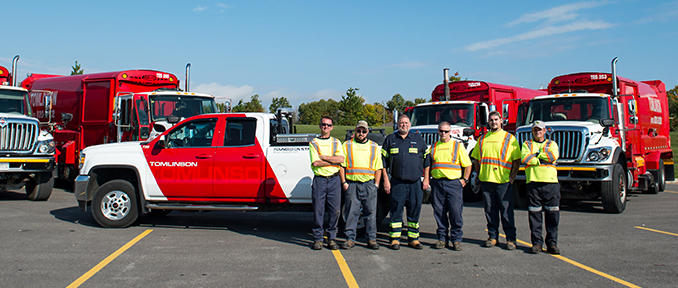 Tomlinson Offers Smooth Transition for Clarence-Rockland Curbside Waste Collection
Tomlinson Environmental Services has been awarded the new waste collection contract by the City of Clarence-Rockland. Tomlinson ensured a smooth transition for the city and residents when it took over in April 2016. It services a population of 23,185 with 8,567 residential units and 140 businesses, 5 days per week. Tomlinson has introduced new equipment to fulfil the contract which includes: curbside collection of waste; recycling and leaf & yard waste; front end load collection of waste; and cardboard and roll off compactor/enclosed bin type work.
"With a new service provider, the municipality's main concern was the changeover between contractors, especially since the previous supplier had been with us for the past 12 years," explains Denis Longpré, Manager of Environment and Water, Infrastructure and Engineering, Cité Clarence-Rockland City. "We are pleased with the smooth and collaborative transition that Tomlinson provided to our residents and the way they dealt with questions promptly. Tomlinson followed through on the planned transition and conducted regular follow-ups to ensure our satisfaction."
In July 2015 Tomlinson's Environmental Services Solid Waste & Recycling team submitted a bid, including pricing on 10 different collection scenarios along with the pre-existing collection method. In November 2015 Tomlinson was awarded the $6,000,000, 5-year contract, ahead of Miller Waste. Securing this bid was significant as it represents one of the largest communities outside of Ottawa. It is also proof that Tomlinson's ability to offer a comprehensive range of waste as well as construction services is a winning formula. As Trev Fowles, Area Manager – Solid Waste, Recycling & DSS Operations explains, "This contract puts us back in the arena of providing municipalities with waste services and establishes us as a valued partner. We helped the city see that we are more than a contractor and we can offer other services aside from environmental waste management in the future."
Thanks to its diversity, Tomlinson is able to use their own infrastructure to manage all aspects of the service without any need of a third party. A total of 5 trucks and 5 full-time drivers are utilized: 5 International Labrie Side Loader collection vehicles with cart tippers and 1 Mack Universal Front End Load truck. Roll Off services are provided by Tomlinson's existing fleet. All of the vehicles, drivers and hauling are provided by Tomlinson. The Environmental Services team is using the nearby Tomlinson Ready Mix plant in Vars to park the 3 trucks and perform maintenance, thereby decreasing operating time and cost. Recycling is transported to the Tomlinson Waste Recovery Centre in Carp where Rob Hall supervises the Recycling processing, thus increasing Tomlinson's overall recycling volumes.
About Tomlinson Group
Ralph Tomlinson founded R.W. Tomlinson Cartage in 1952 with one single-axle dump truck. Incorporated in 1969, the company is now a leader in transportation infrastructure and environmental services throughout Eastern Canada. Providing a comprehensive range of products and services in quarrying, construction, trucking and environmental industries, Tomlinson delivers the highest standard of quality and value to its customers. Investment in its people, processes, resources and equipment has earned Tomlinson a reputation for excellence, integrity, innovation and teamwork.
For more information on Tomlinson's products and services, please visit www.tomlinsongroup.com
Editorial Inquiries:
Paul McCarney
Tomlinson
+1 (613) 822-1867
pmccarney@tomlinsongroup.com