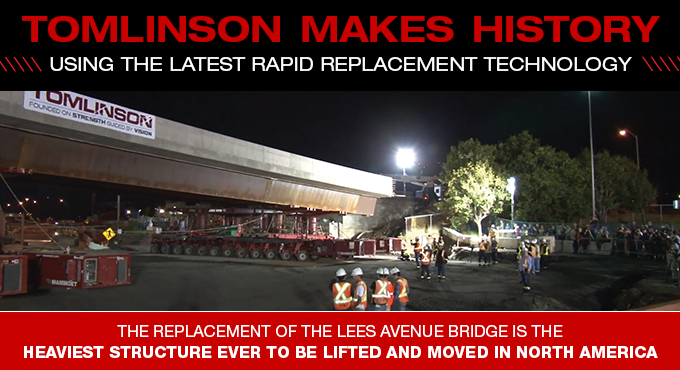 Tomlinson makes history with the Lees Avenue Bridge Lift
Using the latest Rapid Replacement Technology, Tomlinson has made history. The replacement of the Lees Avenue Bridge is the heaviest structure ever to be lifted and moved in North America. In the first phase, Tomlinson crews removed the 105-metre bridge in record time overnight in June 2014, keeping their promise to open the highway again the next morning to commuters. In the final twelve weeks, crews brought over 4,000 tonnes of stone to create a temporary road to allow the massive structure to be moved into its new location.
In an amazingly short amount of time – just 17 hours and one hour ahead of schedule – Tomlinson workers created the road, moved in the bridge and trucked out all 4,200 tonnes of stone. It was a huge operation, demonstrating Tomlinson's as a leader in this area of roadway and bridge construction. The City recognized the moment's magnitude and created a designated viewing spot where more than 150 Tomlinson employees and hundreds of spectators witnessed the historic event.
The event also captured the attention of the Discovery Channel, who sent a film crew from its popular show, Daily Planet. To see the Tomlinson segment, check out Discovery Planet and go to "Segments" then choose "Heaviest Bridge Move".