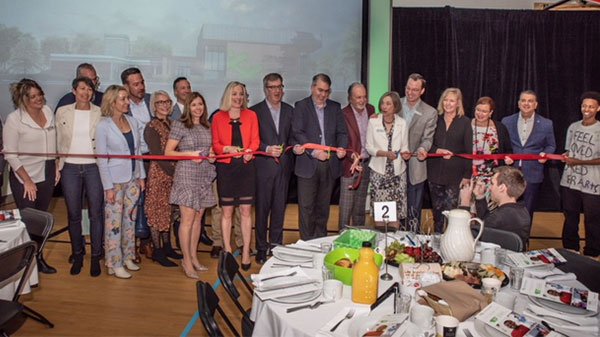 Tomlinson Foundation Supports Boys and Girls Club's Fundraising Breakfast
The Tomlinson Foundation was proud to support the Boys and Girls Club of Ottawa (BGCO) during their 10th annual fundraising breakfast held at the Tomlinson Family Foundation Clubhouse on May 2, 2019. Cindy Tomlinson attended the ribbon-cutting at the beautifully renovated Clubhouse, which welcomed its largest crowd since beginning the fundraiser. Over 350 community members, business leaders, entrepreneurs, and political leaders gathered together to learn more about the club's programs and their impact on our communities, while renewing their financial support to this crucial network of youth outreach clubs.
The $4 million renovation of the Clubhouse, bolstered by a $1 million donation from the Tomlinson Family Foundation in 2017, has doubled the Club's footprint. Once a fire hall, the 51-year-old building now has a new gymnasium and washrooms inside, and a new all-season rink outside. This has enhanced the Club's free programming, allowing it to accommodate more at-risk children and youth in the community.
Under Cindy Tomlinson strong leadership, the Tomlinson Family Foundation has contributed and supported many initiatives in our local communities, and fosters charitable works that build and strengthen these communities. The Foundation leverages the company's tradition of charitable giving by encouraging participation from employees, suppliers, service providers and other organizations and individuals with whom we work. The goal of the Foundation is to support a wide range of organizations in an effort to serve the needs of our community.
The Boys and Girls Club of Ottawa (BGCO) has served the Ottawa community since 1923, reaching out to 4,500 children and youth each year through after-school, weekend and summer programs that build self-esteem and help to develop stronger social skills.