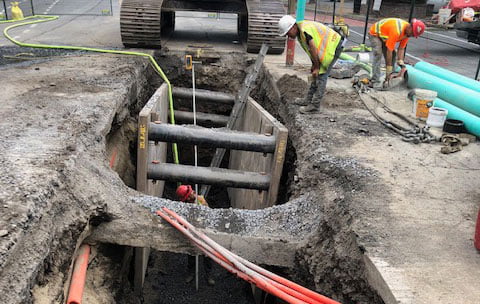 Tomlinson completes Springfield/Beechwood project ahead of schedule
Tomlinson's Sewer and Watermain division finished the City's Springfield/Beechwood contract four days ahead of time. The Springfield and Beechwood ISD18-3014 project stipulated a 12-day period of time (July 22nd to August 2nd, 2019) in which all the work on Beechwood was to be completed. The City came up with this timeline after polling several contractors who all agreed it would be unrealistic to finish the work in less than 12 days. However, Tomlinson started the work on July 22nd, as per the contract  specifications, and just over a week later – by early afternoon on July 30th – the road was reopened, with all the civil work completed and the road reinstated. The City was delighted to have the road open earlier than expected.
A combination of careful planning, excellent teamwork and high quality workmanship made this possible. "Our ability to pool our resources gives us an edge on the other companies when it comes to tight schedules and deadlines," said Michel Noel, Project Manager, R.W. Tomlinson Ltd. 
The project consisted of the replacement of existing watermain along Springfield Road from Beechwood Drive to Rideau Terrace, portions of which were originally installed in 1920. On Beechwood Drive existing watermain and sanitary sewer were replaced, from Springfield Road to Douglas Avenue.