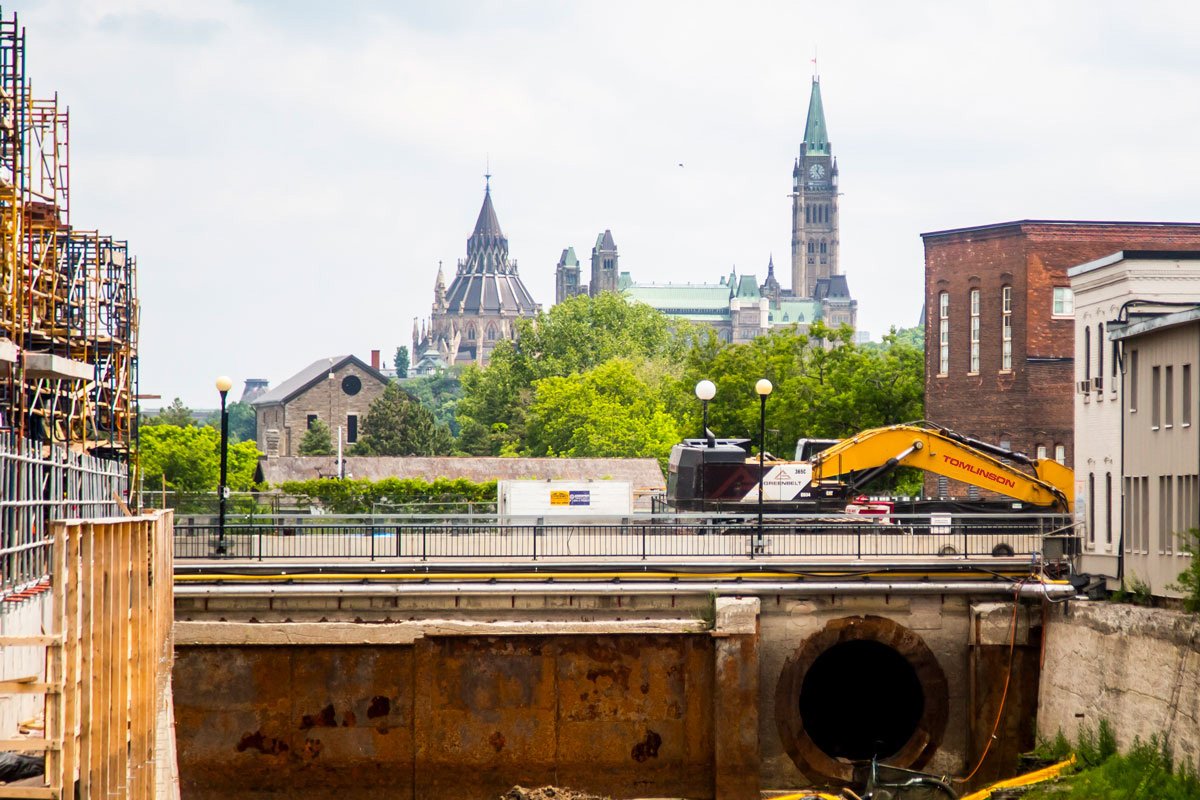 Tomlinson Completes Multiple Strategic Infrastructure Projects in Ottawa
Tomlinson, leaders in Transportation Infrastructure, had a busy summer building several strategic projects which enhance the Eastern Ontario infrastructure.
Tomlinson has begun providing new infrastructure for Zibi, the future residential apartment buildings on Albert Island. The team is installing new water, sanitary and storm infrastructure from Albert Island down Booth Street to Albert Street. This includes the supply and erection of a new 80m single span pedestrian bridge over the existing canal to carry the water supply and sanitary force main pipes, as well as a new precast tunnel under Booth Street, and new district thermal piping in Booth and Head Street. As part of the project, Tomlinson is also reconstructing the entire Booth Street corridor to allow for new permanent cycling facilities and pedestrian walkways from Wellington Intersection to Chaudière Bridge.
Our teams were also busy completing underground work at the Dynes Road and Prince of Wales Drive Reconstruction site. Started in July 2017, this construction project was driven by the need to increase the conveyance capacity of the existing trunk storm sewer system to address past flooding problems in the Parkwood Hills Community, from Fisher Avenue to Prince of Wales Drive and Prince of Wales Drive from Dynes Road to Forest Hill Avenue. Tomlinson replaced aging sanitary sewer infrastructure throughout the project limits and upgraded the watermain along Prince of Wales Drive. This also involved replacing all building services to the property line and the installation of backflow preventers at the property line on all storm laterals. Given the extent of the underground infrastructure renewal, it was necessary to fully reconstruct the roadway including the intersections of Fisher Avenue/Dynes Road and Dynes Road/Prince of Wales Drive, two major signalized intersections within the City of Ottawa. This provided the opportunity to rebuild the road with enhanced safety features for pedestrians, cyclists, and motorists. Tomlinson constructed two of the first fully-protected intersections in Ottawa, which cyclists can navigate without having to mix with vehicular traffic. Other road safety features included wider AODA compliant sidewalks, new 'missing link' sidewalks, fully segregated cycle tracks, dedicated bike lanes, dedicated bike signals, two speed tables, a raised pedestrian crossing, and enhanced pavement marking and signage. Tomlinson ensured efficient staging and management of the project – including working at weekends and overnight – to minimize disruption in busy intersections, especially during the popular Greekfest every August. Tomlinson's work was rewarded with the full incentive associated with two major contract incentive/disincentive clauses.
On Bank Street in the Glebe, Tomlinson finished shoring work on another residential project, this time Amica, which will be retirement residences. Tomlinson used rakers for bracing instead of tiebacks to accelerate completion of the project for Succession Developments. A combination of soldier pile, wood lagging shoring, and secant wall was used for the shoring.
On Highway 401, Tomlinson has been undertaking the Pitt Street Bridge Replacement. This involved the removal and replacement of the existing bridges over Pitt Street, located 1.4 km east of the Brookdale Avenue Interchange. Construction re-started on Monday April 1, 2019, with lane closures and temporary speed reductions over the spring and summer to enable work to be carried out. A detour route was in place to aid traffic and Tomlinson ensured minimal disruption to the traveling public. Replacement of the eastbound lane bridge over Pitt Street was completed November 8, 2019 and the 401 was reinstated to its normal configuration.