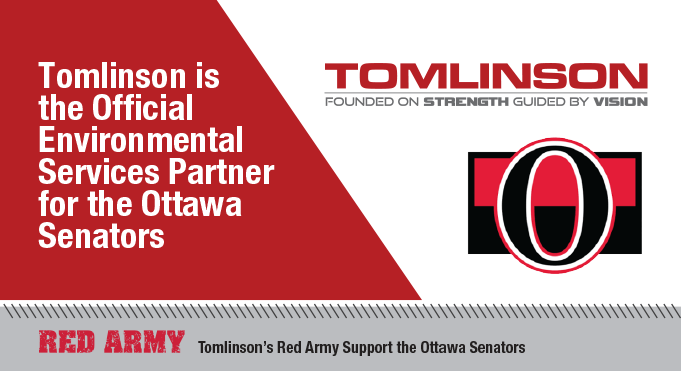 Tomlinson Becomes Official Environmental Services Partner of the Ottawa Senators
OTTAWA – We are excited to announce our new partnership with the Ottawa Senators. Tomlinson will be working closely with the Sens team to develop innovative and clean processes to provide waste management as well as recycling solutions. As Terry Thompson, Manager – Environmental Sales, says, "Tomlinson Environmental Services is thrilled to be the official Environmental Services Partner for the Ottawa Senators.
The new Partnership is reflective of the growth and evolution of a relationship which has spanned over 25 years. "Providing our environmental services is a natural progression and builds on Tomlinson's involvement in the infrastructure of the Canadian Tire Centre and development of the Sensplex properties," says Paul McCarney, Senior Vice-President of Tomlinson.
"We value the benefits of long-term business relationships which develop into partnerships that build on the strengths of each partner," explains Kevin Cinq-Mars, Tomlinson President. "This new partnership will enhance the synergies that exist between the Ottawa Senators organization and Tomlinson," said Kevin Cinq-Mars, President of Tomlinson. "Both organizations also share a role as community leaders, actively involved in the Ottawa community and supporting many local charities."
Go Sens Go!