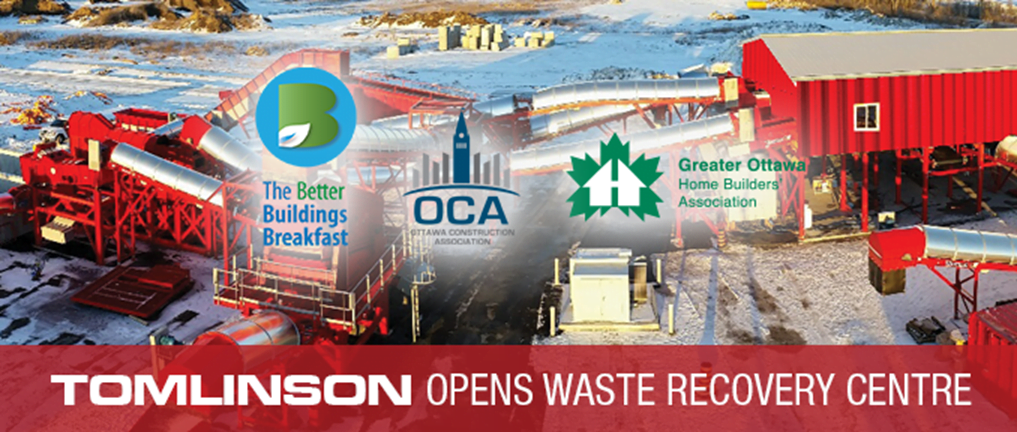 Tomlinson Announces State-of-the-Art Construction Waste Recovery Centre
Ottawa, ON – Tomlinson, a leader in environmental services and transportation infrastructure, today announced that it will be opening a new construction materials recycling and recovery centre that complements the range of environmental services they offer to businesses and homeowners. Located just off HWY 417 in the Carp Road business corridor, the Tomlinson Waste Recovery Centre will be a state-of-the-art facility and environmental resource for the local construction industry and homeowners tackling their own renovation or construction projects.
The Tomlinson Waste Recovery Centre represents the latest step in Tomlinson's mission to provide world-class environmentally friendly services and continue the commitment to helping build sustainable communities. "We have taken the lessons learned from almost 20 years of recycling this type of material and combined that knowledge with the latest technology to allow us to stretch the limits of the quantity and quality of the waste material that can be recovered," said Lee Timmins at Tomlinson Environmental Services. "The result of this combination will be a significant decrease in the amount of waste heading to landfills in our region."
From day one, the Centre will be able to process more than 50 tonnes of construction debris and remnant material per hour, up to 500 tonnes each day. The goal is to recover or recycle a minimum of 80% of the construction materials delivered for processing. Businesses and homeowners will benefit from the ease of placing all their construction waste in one container and the confidence that the Centre will sort and reclaim materials, diverting up to 110,000 tonnes a year of waste from landfills.
The Centre will support recycling and recovery efforts for all manner of construction materials, including source separation of cardboard and plastic, reclaiming construction materials like aggregates, rock and concrete, which can be crushed and reused, recycling of metals and wood, and the conversion of mixed materials into biomass or fuel sources.
In a construction market where both builders and homeowners continue to embrace sustainability and environmentally conscious concepts like LEED (Leadership in Energy and Environmental Design) and BOMA BEST (Building Owners and Managers Association Building Environmental Standards), having a facility where residents, contractors and builders can bring materials to be recycled or reclaimed instead of being taken to a landfill can have a significant influence on a project's environmental impact.
John Herbert, Executive Director of the Greater Ottawa Home Builders' Association (GOHBA) was "extremely pleased that Tomlinson will be providing such a sophisticated recycling service that will support the tremendous reductions in waste material achieved by the homebuilding industry in Ottawa over the past decade." Located minutes from Kanata, offering competitive rates, easy access for trucks, and with no pre-sorting of materials required, the Tomlinson Waste Recovery Centre is well positioned to rapidly become Ottawa's top waste recovery centre.
As of May 16, 2016, the Centre, located at 106 Westhunt Drive, will be open Mondays to Fridays from 7am-5pm and Saturdays from 7am-1pm. For more information, visit www.wasterecoverycentre.com
******
About Tomlinson
Ralph Tomlinson founded R.W. Tomlinson Cartage in 1952 with one single-axle dump truck. Incorporated in 1969, the company is now a leader in transportation infrastructure and environmental services throughout Eastern Canada. Providing a comprehensive range of products and services in quarrying, construction, trucking and environmental industries, Tomlinson delivers the highest standard of quality and value to its customers. Investment in its people, processes, resources and equipment has earned Tomlinson a reputation for excellence, integrity, innovation and teamwork. For more information on Tomlinson's products and services, please visit www.tomlinsongroup.com