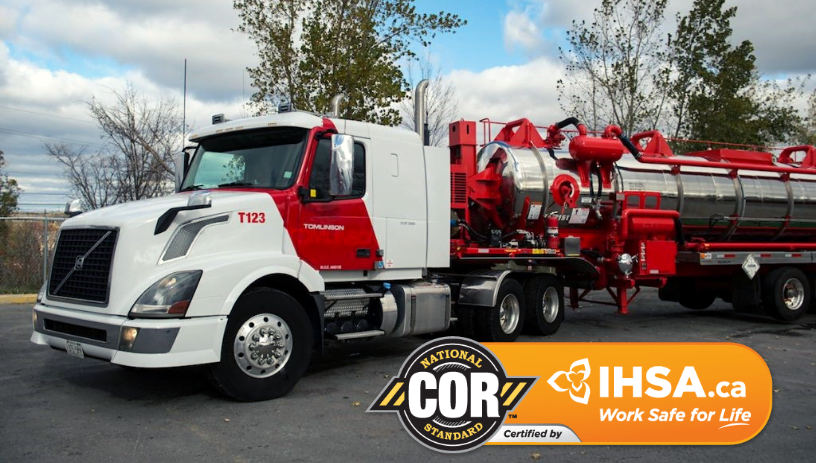 Tomlinson announces second Division to achieve COR™ certification
Tomlinson is proud to announce that on November 26, 2019 the Industrial Waste Division (IWD) achieved Certificate of Recognition (COR™) from the Infrastructure Health & Safety Association (IHSA).
"I am pleased to announce the Industrial Waste Division has achieved COR™ certification.  We recognize the amount of time, energy and effort put forth by all members of the IWD team to achieve this, it was tremendous," said Chris Keeping, Director of Health and Safety, Tomlinson.
With a fully integrated range of industrial waste services, Tomlinson provides a one-stop shop for sustainable disposal and processing solutions in Eastern Ontario. We invest in leading waste management technologies at our hazardous waste processing facilities, safely and efficiently treating industrial, commercial, institutional and automotive waste.
The IWD team of specialists use extensive knowledge of government regulations to recommend the correct disposal options for hazardous and non-hazardous waste to help limit the impact of industrial waste on the environment.
In order to gain COR, Tomlinson was required to demonstrate a working health and safety program, including formal, standardized and consistent health and safety policies and develop a written corrective action plan to ensure continuous improvement.  The company also had to undertake internal and external audits, and meet the assessment criteria for all 19 elements laid out by the IHSA.
With more COR™ certified firms bidding for jobs and more buyers of construction services requesting COR™, the program continues to grow and become a standard for safety in the province.