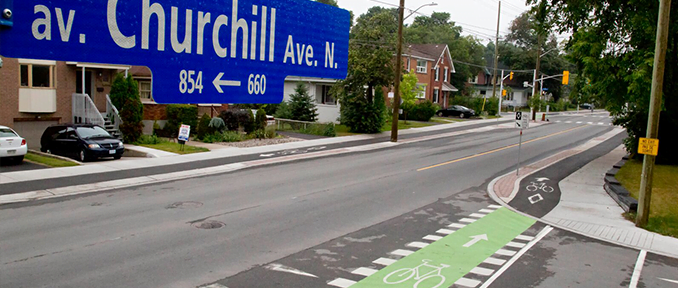 Tomlinson and Greenbelt Acknowledged in Award-Winning Churchill Avenue Rehabilitation Project
When the City of Ottawa recognized its green initiatives with its 2015 Environmental Excellence Award, the Churchill Avenue Rehabilitation Project won. The annual Environmental Excellence Award honours the innovation, leadership and efforts of initiatives'' with significant contributions in advancing the City's commitment to a greener and more environmentally friendly and sustainable municipality.
The Churchill Ave project won the award for excellence in the community category for its provision of sustainable transportation options for residents. The municipal rehabilitation project represents Ottawa's first 'complete street', designed with unique features that meet the needs of all users, including pedestrians, cyclists, motorists and public transit users.
The design showcased street lighting, traffic control signals, traffic calming measures, concrete curbs and sidewalks, streetscaping and utilities relocation for the 1.2km roadway. The street's physically separated raised bike lanes are a design solution new to much of North America and vastly improve safety for cyclists.
The celebration of this project's award is shared with many local construction industry leaders including; the design and construction teams from the City of Ottawa, Novatech Engineering for project design and contract administration, KL Consulting for project management and Greenbelt, the general contractor, with Tomlinson and sub contracts; D&G, AMS and ATA. The collaboration created an extraordinary construction team committed to innovation, quality and excellence.
"Initially, I was concerned about the implied difficulty of successfully integrating the many disciplines involved with such a complex multi-year project. As it turned out that concern was totally unfounded since the field skills and proficiency demonstrated by the Greenbelt and Tomlinson crews, the professionalism brought to the table by Mario Lalonde, Luc Lemieux and Mike Hendriks and the tireless construction administration efforts from Novatech Engineering -all combined to form an exceptional project team who delivered a functionally complete project well ahead of schedule and within the anticipated budget figure," said Paul Clarke, Project Manager (Consultant), City of Ottawa. "In retrospect I consider myself extremely fortunate to have had the opportunity to work with and learn from such an extraordinarily talented group."
The project was also a finalist in the TAC (Transportation Association of Canada) 2015 Sustainable Urban Transportation Award for its innovation, and enhancement of sustainable urban transportation.
"We are very proud to be involved with an award winning project. It's rewarding to work with such an amazing construction team. Incredible things can be accomplished when everybody pulls in the same direction," said Mario Lalonde, Senior Project Manager\Estimator, GreenBelt Construction.
To read the original News release from the City of Ottawa: click here