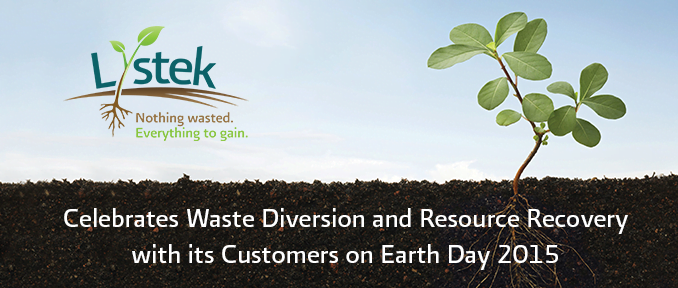 Lystek Celebrates "Waste" Diversion and Resource Recovery with its Customers on Earth Day 2015
Attention: Business, economic, agriculture and environmental reporters/editors
Lystek Inc. plays a leading role in the successful diversion of organic materials from landfills by providing proven solutions that help municipalities and other generators harness "waste" as an economic resource. Widely acknowledged, "waste" diversion generates substantial economic and environmental benefits and supports the evolution towards a circular economy that realizes the benefits of resource recovery.
A report from the Ontario Waste Management Association (OWMA) March 31, 2015 titled "Rethink Waste 2015" describes the positive impacts of diversion to include; creating jobs with higher than average incomes; boosting public revenues; and adding net value to the overall economy. Also, in a 2009 report by the Ontario Government, it was identified that 7 jobs are created in Ontario for every 1,000 tonnes of diversion. These are just a couple of examples that support the original premise of the globally recognized Earth Day – to foster harmony and the interdependence existing between human beings, other living species and the planet we inhabit.
Lystek helps close the loop on diversion by providing award–winning, state of the art solutions for biosolids and organics management that convert wastewater treatment plants into Resource Recovery Centres. This is accomplished by converting these materials into an organically-based, biofertilizer called LysteGro. The resulting resource is a high nutrient biofertilizer product that is pathogen-free and federally registered and recognized as Class A quality by both the CFIA (Canadian Food Inspection Agency) and the US EPA. Growers are ecstatic about this progressive, environmentally and economically sustainable alternative to traditional fertilizers. The same, innovative system can also be used to optimize the performance of digesters and BNR systems, while reducing overall volumes and increasing biogas production for green energy.
The largest, single operating cost for most wastewater treatment plants is related to biosolids and organics management. Many forward-thinking municipalities are already utilizing Lystek's award-winning systems to reduce "waste", operational costs, odors and greenhouse gas emissions. Full scale Lystek systems can be found in a number of locations, including the regional Southgate OMRC, the City of Guelph, the Town of St. Mary's, Third High Farms Ltd. as well as the Township of Centre-Wellington and the City of North Battleford. A first U.S. facility is also currently under development in California.
In the City of Guelph, Ontario the proven Lystek system has been contributing to landfill diversion since 2006. "The addition of the state-of the-art, Lystek solution to our Wastewater Treatment Plant operations is playing a vital role in contributing to our goal of being a progressive, industry leader in biosolids management," said Janet L. Laird, (former) Executive Director, Planning, Building, Engineering & Environment, for the City.
Achieving 100% biosolid diversion is a significant target, so when the City of Toronto achieved this major milestone in 2014, the Lystek team was able to celebrate the integral role it plays in being part of this achievement. Biosolids diversion and conversion for Toronto's biosolids is partially undertaken at two regional Lystek-enabled facilities – the Southgate OMRC and Third High Farms Ltd. (Iroquois, Ontario) Additional diversion services are also provided to such municipalities as the Regions of Halton and Waterloo, the cities of Ottawa and Peterborough as well as Orangeville, Owen Sound, Tay Township, Walkerton and more.
"We are proud to play such a positive role in successful waste diversion. Municipalities need to harness the economic value of these materials as a resource and we are excited to be able to provide proven solutions for this, " said Kevin Litwiller, Director of Business Development for Lystek. "On this 2015 Earth Day we recognize and applaud the critical role our customers play in diverting these valuable organic materials from landfills so they can be safely converted into the nutrient rich, LysteGro biofertilizer product that growers love, appreciate and are willing to invest in."
-30-
Lystek is an award-winning organic materials recovery firm with proven solutions that is helping municipalities and other generators reduce waste, costs, odors and greenhouse gas emissions through its innovative approach to biosolids and organics management. Lystek is committed to beneficial use through the transformation of non-hazardous, organic materials into nutrient rich, federally registered, fertilizer products. At the wastewater treatment plant, the same, innovative system can also be used to optimize the performance of digesters and BNR systems, while reducing overall volumes and increasing biogas production for green energy.
For more information please contact Kevin Litwiller, Director of Business Development.
Cell: 519.584.5437 | Office: 226.444.0186 x 106 | kevinl@lystek.com