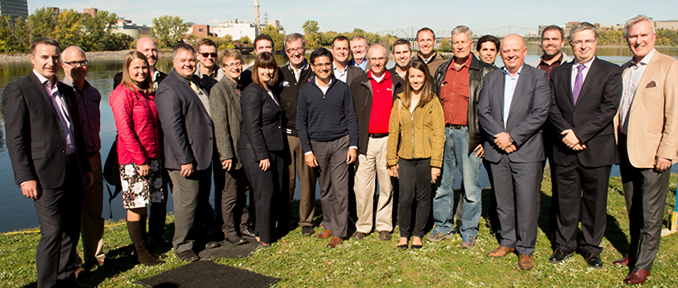 Dragados-Tomlinson Joint Venture Awarded Significant Water Infrastructure Project for Ottawa River Action Plan
The Dragados-Tomlinson Joint Venture will commence construction immediately on the Combined Sewage Storage Tunnel (CSST) that will enhance the health of the Ottawa River by improving the storm water management system.
"We are extremely proud of the Dragados-Tomlinson Joint Venture and the synergy of our combined efforts to win this significant project," said Tomlinson President, Kevin Cinq-Mars. "We are confident we have the most capable team to deliver this project successfully."
"We are very honoured that the Dragados-Tomlinson Joint Venture has been awarded this significant infrastructure project here in Ottawa," said Ricardo Franco, President of Dragados Canada. "We are aware how important the CSST project is for the city and have confidence that the work our highly qualified team will deliver will contribute to preserve the Ottawa River for generations to come."
Dragados Canada, a construction division of the ACS Group, is recognized worldwide for large infrastructure projects, including tunnels, highways and bridges. A local leader in transportation infrastructure, Tomlinson offers broad capabilities in aggregates, heavy civil engineering as well as sewer and road construction. Both companies are actively involved in the construction of the Ottawa Light Rail Transit (OLRT).
Funded by the Government of Canada, the Government of Ontario as well as the City of Ottawa, total investment in the CSST project is approximately $230M over three years. The CSST will be 6.4kms in length, 3 metres in diameter and will divert up to 43,600,000 litres of combined sewage away from the Ottawa River to a local treatment plant. Protection of the Ottawa River has been a priority of the City of Ottawa, which is working to reduce the impact of both combined sewage overflows and storm water on the river.
About Dragados Canada
Dragados was founded in 1941 and won its first underground project in Spain in 1944. In 1965, the company began its international push and won its first contract. Since then, Dragados has completed over 530 underground projects in 19 countries and five continents.
Today, having constructed more than 1,380kms of tunnels, shafts and galleries and stations through a variety of geological conditions, utilizing diverse methodologies and all types of construction technologies, we are a worldwide leader in underground construction.
Specifically for water tunnels, Dragados has built more than 555kms of water tunnels including: aqueduct tunnels, conduit tunnels, discharge tunnels and sewage tunnels.
For more information about Dragados Canada, please visit www.dragados-canada.com
About Tomlinson Group
Ralph Tomlinson founded R.W. Tomlinson Cartage in 1952 with one single-axle dump truck. Incorporated in 1969, the company is now a leader in transportation infrastructure and environmental services throughout Eastern Canada. Providing a comprehensive range of products and services in quarrying, construction, trucking and environmental industries, Tomlinson delivers the highest standard of quality and value to its customers. Investment in its people, processes, resources and equipment has earned Tomlinson a reputation for excellence, integrity, innovation and teamwork.
For more information on Tomlinson's products and services, please visit www.tomlinsongroup.com
Editorial Inquiries:
Paul McCarney
Tomlinson
+1 (613) 822-1867
pmccarney@tomlinsongroup.com